Friday, November 23, 2018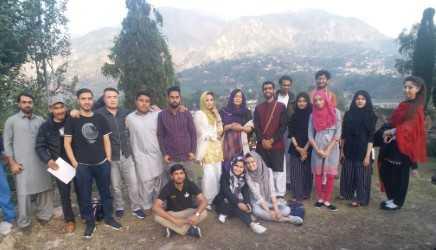 LUMS has been a change factor in my personality, since I joined. I feel fortunate, being a Management Science student (batch 2019) at LUMS. LUMS helped me in my personality development, grooming and provided me with opportunities to achieve something special. LUMS helped me in my journey from "Waqas, Ap bolty q nahi" to "Waqas, tum bahut bolty ho." Recently, I was in USA for Department of State Funded Watershed Program through Learning Streams International (LSI). During forty days internship with LSI, we visited multiple climate change affected sites, learnt protocols for efficient running of water conservation projects and solution to water scarcity problems that Pakistan is going to face in near future.

After being through such splendid opportunity at LSI, I set-up a meeting with Ma'am Hiba Zaki, Manager, Campus Climate Unit, to discuss some recommendation related to development pro-environmental behavior of LUMINITES. I shared my experience with her and she was so much excited that she asked me to be a speaker at, 'National Peace Building Conference' being held in Azad Jammu Kashmir University, Muzaffarabad. She managed to place timing for a session on, "Environmental Crises: Clean and Green Pakistan."

Session was to be held on October 17, 2018, so I and Amara Aqsa (A friend that went to LSI internship with me) started preparation for the sessions. We went through different papers, searched on internet and met with instructors to get insights. Although, I have been delivering sessions on Professional Skills Development to school, college and university student through platform of Chiraagh (a social project focusing on capacity building of under-privileged students) but I was a bit nervous about this session.

Due to some unforeseen circumstances, session was rescheduled on October 18, 2018 and it gave a sigh of relief as I got one more day to strengthen my concepts, memories the figures and add taste to my experience. On the very day, I was pleased to see some familiar faces that gave me more confidence, (Ismail, Usman, Kashmala, Ifra, Masooma, Warda, Nisha, Azan,). As the session commenced, it was a strange feeling as I was part of a panel of instructors, like Dr. Fareeda who have been working on environmental change for long and is a faculty member at Karakoram International University. It was a proud moment for me to sit among such accomplished instructors. I have confronted Q and A sessions before, but that Q and A session was amazing as the questions asked during the session were spontaneous and were out of the bounds of my Management Science degree. But I managed to answer and satisfy the attendee.

Besides this session, National Youth Conference provided me an opportunity to interact with beautiful minds and people of Hazara Community, Muzaffarabad, BUITEMS, and Karakoram International University and experience their culture. This conference provided me an opportunity to speak up my mind and realise my hidden potential. Moreover, I had just heard stories about beauty of Kashmir and hospitality of Kashmiris but at the conference I actually experienced and it was an amazing one. Moreover, we visited Pir-Chinasi, and got to know how beautiful Kashmir is. The hospitality of Anees, Vice Principal, Army Public School Muzaffarabad and Aman was one of the best hospitality experiences including others.

I am once again thankful to Ma'am Hiba Zaki, Dr. Fareeda, Mohsin Bin Iqbal, people from LUMS and our special group for the true support and such an amazing experience.