ABOUT LUMS
LUMS, a non – profit organization established in 1985, is a unique destination for lifelong learning and education. Just as the world has evolved over the past three decades, so has LUMS, taking the lead with a progressive and innovative curriculum and discovery research. It's five Schools have nurtured leaders in areas extending from entrepreneurship, economics, biology, mathematics, engineering, education, writing, politics, business to all other domains of life.
The LUMS community is motivated by a shared purpose: to make a better world through providing an all-encompassing space to students from all segments of society and conducting socially relevant research.
LUMS is renowned for its esteemed faculty, who are recognized experts in academia who continuously strive to transfer innovation and increase social engagement. They bring their global learning to their classrooms and encourage mentoring relationships with students. It is this sense of partnership which creates an environment that rewards teamwork, promotes progress and challenges traditional disciplinary boundaries. LUMS students find in their professors a community of scholars that is both appreciative of diversity and bold in its outlook.
Therefore, with creativity and drive, our graduates have contributed in areas as far as optics, organic molecules, entrepreneurship and medical research to name a few.
FACTS AND FIGURES



Lahore – A Historic and Hospitable City
Pakistan's second largest city, Lahore, is known for its cultural as well as contemporary/modern day life. Great food with never ending entertainment, quality educational institutions, distinct shopping areas, acres of greenery and ongoing cultural activities such as the arts and craft exhibitions, film and literature festivals and concerts make it one of the most exciting cities of Pakistan. Lively shopping malls with brands from across the world, a convenient metro bus system right in the middle of the city, international food franchises as well as Pakistan's best museums, make Lahore the place to be if you wish to experience modernism and a flavor of rich Pakistani culture. It offers a variety of take our and dine in food choices that range from traditional to continental to fast food.
Lahore is also center of higher education with some of the oldest educational institutes in the country, while LUMS has swiftly placed itself as top of its class.
The city is also known for its historical monuments as well as its innumerable poets, scholars, writers, intellectuals and scientists. Standing tall in one corner of the city is the Lahore fort along with the magnificent Badshahi Mosque and the Sheesh Mahal, a UNESCO recognized world heritage site. The Minar-e-Pakistan (Pakistan Day Memorial) is another historical landmark built to commemorate the day when the Pakistan Resolution passed on March 23rd in 1940.
COURSES
The academic programmes offered at LUMS include undergraduate, graduate and postgraduate degrees in various disciplines. All courses are taught in English and students have the freedom to explore their interests in a variety of subjects before choosing their majors. Our incoming exchange students are allowed to take courses offered by all schools provided that they will meet the prerequisites of the courses.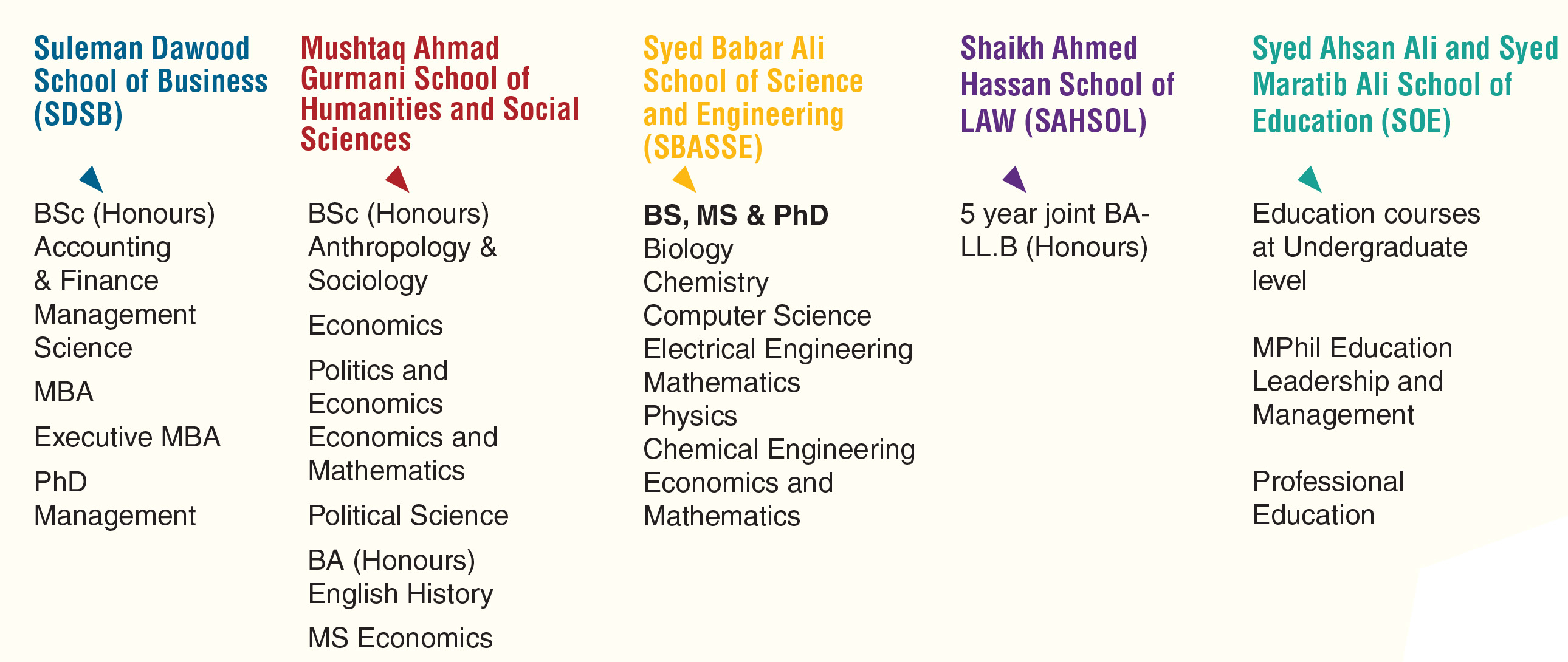 COST OF LIVING
Campus accommodation at LUMS truly provides a worthwhile university experience with an access to all primary facilities and other social accessories being close by. From separate male and female dorms, diverse food outlets, ATMs, and a superstore to a state-of-the-art swimming pool, excellent sports facilities, emergency medical services and library facilities, LUMS offers a complete university environment to all community members within easy reach.
The cost of living per semester (5 months) is approximately PKR 145,000 (i.e. €839 or $919). Below is a general overview of your cost of living at LUMS per semester. These estimated costs can vary from person to person, depending on the lifestyle of the individual.
COST OF LIVING PER SEMESTER (ESTIMATED)
| | | | |
| --- | --- | --- | --- |
| | Pakistani Rupees | Euros | US Dollars |
| ACCOMMODATION | 60,000 | 347 | 380 |
| FOOD | 75,000 | 434 | 475 |
| BOOKS & READERS | 10,000 | 58 | 64 |
| TOTAL | 145,000 | 839 | 919 |
Euro calculated at the rate of PKR 173
USD calculated at the rate of PKR 158
Exchange rates may vary at the time of admission.
IMPORTANT DATES
| | | |
| --- | --- | --- |
| | Fall 2020 | Spring 2021 |
| Nomination Deadline | 30th April 2020 | TBA |
| Semester Starts | 17th August 2020 | 11th January 2021 |
| Semester Ends | 20th December 2020 | 11th May 2021 |
Student Life at LUMS
Living on campus
Campus accommodation at LUMS truly provides a home away from home with everything close by and access to all primary facilities and other social accessories. From separate male and female dorms, diverse food outlets, ATMs, and a superstore to a state-of-the-art swimming pool, excellent sports facilities, emergency medical services and library facilities, LUMS offers a complete ecosystem to all community members within easy and efficient reach.
Studying Resources
The Gad and Birgit Rausing Library serves as a center for information and knowledge for the faculty, researchers and students with its wide-range of collections, dedicated staff, high-quality infrastructure and online services. It is open for anyone and everyone who seeks to benefit from this repository of knowledge.
Dining
At LUMS, we offer you many on campus dining choices. Let yourself go beyond books and lectures and enjoy the choices of eateries that LUMS has to offer. The Pepsi Dining Centre (PDC) is at the heart of the University and offers a diverse mix of meals and snacks at affordable prices but if you are up for something different, the University also offers many other food outlets serving a wide variety of cuisines to dine and unwind.
Staying Fit
The pride and joy of the LUMS Community, the Syed Maratib Ali Sports Complex, houses the most modern male and female gymnasiums, four squash courts, an indoor basketball court, four badminton courts, and an indoor volleyball court. We also provide you with outdoor sports facilities, which include two volleyball courts, two tennis courts, a football ground and a cricket field. The LUMS Coca-Cola Aquatic Centre, an international standard indoor swimming pool built in line with FINA specifications (25 metres length), is operational throughout the year and is certified for national and international competitions.
Eligibility for Undergraduate Exchange Programme

Students must have proficiency in English. We rely on our partner universities to nominate students who are fluent in English.
Successfully completed at least one year of education with good academic standing within a relevant field of studies at the home institution with proven leadership qualities.
Application for Exchange
Exchange partners nominate their selected students via email.
All nominated students will receive an acceptance email/letter with the application instructions and practical information about the exchange program at LUMS. Students may complete the application form and send it back via email and courier along with the required documents as follows:
Application Checklist
1. LUMS Student Application form
2. HEC – Pakistan Student Information Sheet
3. Visa Form*
4. Transcript of Records
5. Certification of Provisional Grade Point Average
6. Certificate Proficiency in English
7. Nomination/Recommendation Letter from the home university
8. Passport Size Photographs (3 Copies)
9. Scanned Copy of Passport
10. Visa Documents*
* The International Office at LUMS will help applicants through every step of the process for the issuance of student visas.
Testimonials
Anna Magdalena Hofer, University of Passau, Germany
" I spent my Fall 2019 exchange semester at LUMS. I am really glad that I chose LUMS. Academically, the University was exceptional and provided me with many interesting courses, opportunities and a lot of events worth attending. I found the professors friendly and helpful while the level of classroom instructions and environment were suitable for me. LUMS has a really nice, calm and green campus, the buildings fit very well to their facilities and the classrooms are well equipped. Students are very friendly and hospitable, they offer their help whenever they can, and it is really easy to socialize on campus. Based on my exchange experience, I will strongly recommend LUMS to fellows from my home university and elsewhere for an exciting exchange experience."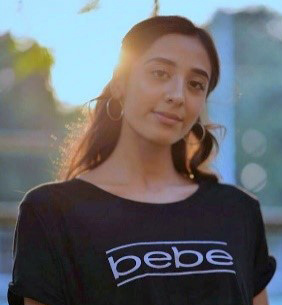 Alizeh Shahzad, Koç University, Istanbul Turkey
" I was at LUMS for an exchange program during Fall 2019. Leaving my university back in Turkey was quite intimidating because I didn't know if I would fit in LUMS or enjoy it, but I absolutely loved my overall experience. LUMS had an amazing social and campus life, great academics and memories that I will cherish for a very long time. I enjoyed my time at LUMS so much that I decided to go for another semester here. There were two main reasons for my extension: the first being the amazing social and campus life and the second was the educational structure of the classes. The classes at LUMS are primarily discussion based and I wanted to be a part of it for more than just a semester. I highly recommend experiencing the diversity at LUMS to my friends at Koc and other universities. "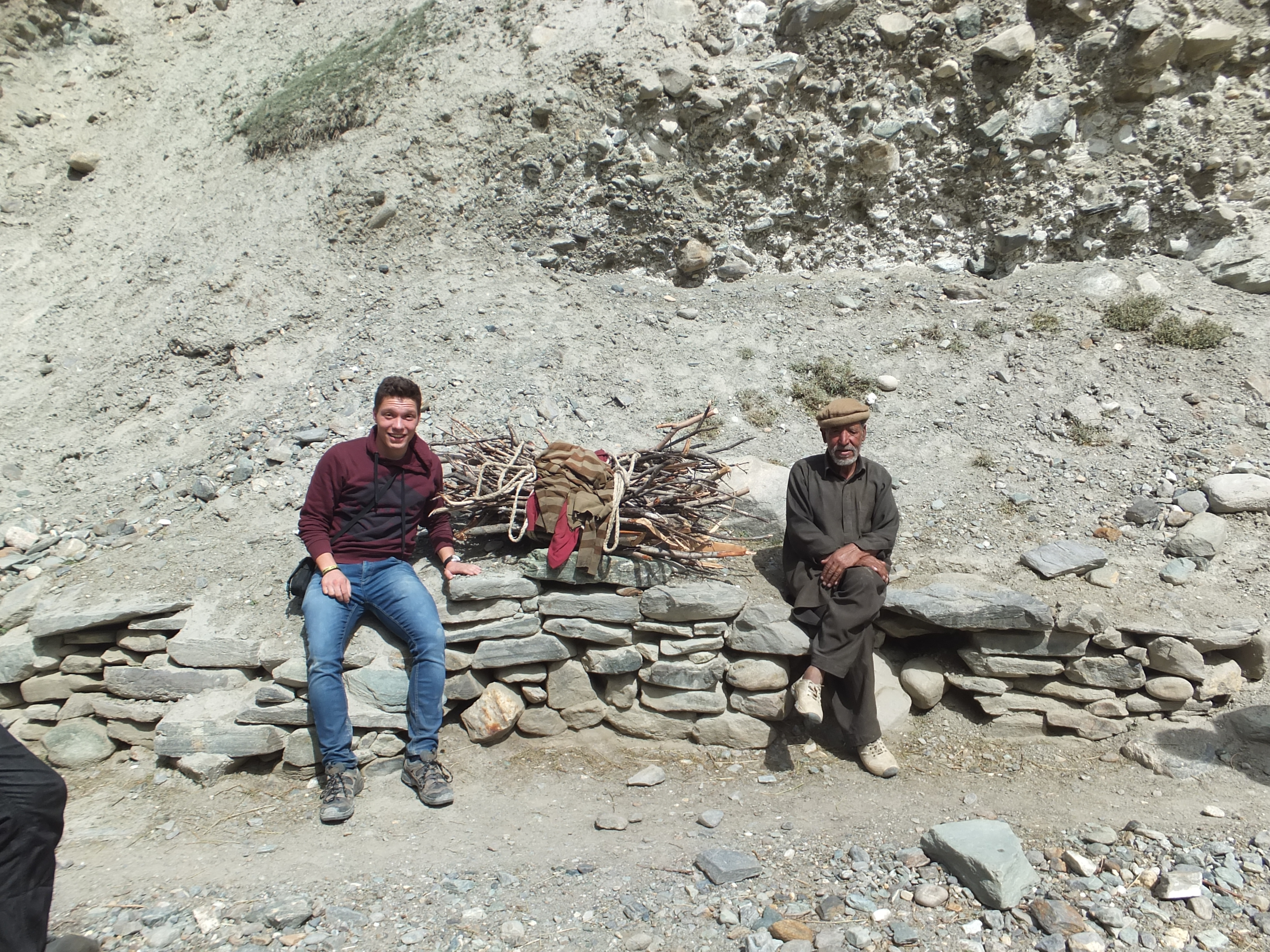 Nils Haveresch – Germany
" LUMS is a special place in Pakistan. It has a very liberal, pro-active and comfortable vibe. You will find everything there you need in life: friendly, jovial people with different backgrounds, food, supermarket, sport facilities and many places to hang out. The academic environment is really impressive. Outstanding facilities, extraordinary instructors and challenging courses motivate you to work hard and enjoy likewise."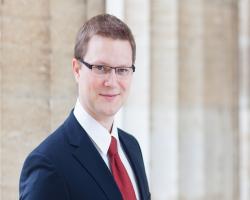 Jakob Schlag – Germany
" My exchange semester at LUMS was one of the most enriching times of my life. With its first-class scholars, LUMS provides an outstanding education, duly recognized worldwide. As a student you can fully concentrate on yor programme since everything you need is provided on campus. Excellent learning conditions paired with an overwhelming hospitality makes LUMS a highly valuable exchange destination."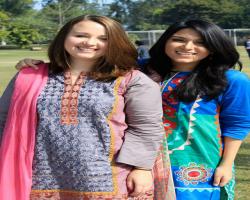 Pauline Asbrand – Germany
" I came to LUMS as an exchange student in August 2014. After falling in love with the country and its people, I prolonged my stay which was originally intended to be just one semester and stayed until May 2015."
CONTACT INFORMATION:
Office of International Affairs
Email: international@lums.edu.pk
Dr. Waqar Zaidi
Director
Office of International Affairs
Email: waqar.zaidi@lums.edu.pk
Phone: +92-42-35608000 Ext. 8431
Ms. Zainab Masood
Deputy Manager – Global Engagement
Office of International Affairs
Email: zainab.masood@lums.edu.pk
Phone: +92-42-35608000 Ext. 2142
Ms. Gulmeena Roghani
Program Officer – Global Engagement
Office of International Affairs
Email: gulmeena.roghani@lums.edu.pk
Phone: +92-42-35608000 Ext. 2143
Address:
Office of International Affairs
Lahore University of Management Sciences
Opposite Sector U, DHA, Lahore 54792
Pakistan
Website:
https://lums.edu.pk/
Factsheet 2020-21