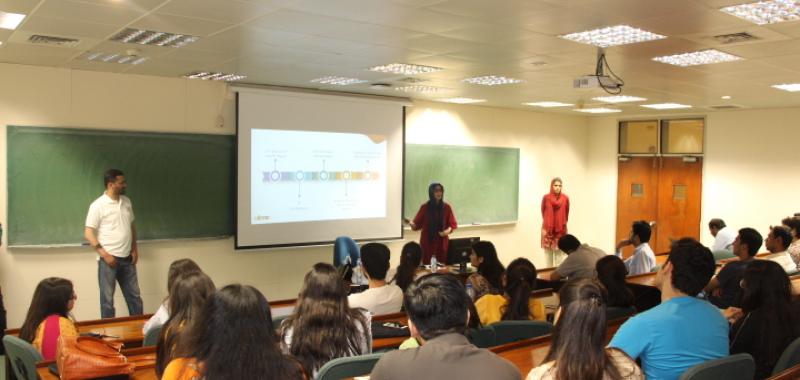 Ufone conducted its recruitment drive for their Summer Internship Programme 2019 at LUMS on April 9, 2019.
Sana Hassan, Assistant Manager Internal Communications & Employer Branding, gave a brief introduction to the Summer Internship Program (SIP) that looks for individuals who like to stand out and speak in public. Interns at Ufone, she said, are given proper training certifications and get to participate in several CSR projects.
A video displaying the presentation and technical skills of previously hired interns at Ufone was also played.
Ms Hassan highlighted the company's mission statement and explained the SIP projects. She explained that Ufone focuses on innovation and value added services (VAS) and is one of the fastest growing subscriber base in the country.
Other achievements of Ufone were also shared: the company became part of Etisalat group in 2006 and known as Pakistan Telecom Mobile Company (PTML); it has service coverage of 350 operators in 140 countries and total number of retailers is 118,000; Ufone also has 24 million users in less than a decade.
Ms Hassan outlined Ufone's recruitment channels and some test parameters to the students. During the session, she also asked them interesting questions and distributed souvenirs among the winners.
Muhammad Ehtisham Khan, Manager Learning & Performance Management, was also present and shared the core values of Ufone. The company, he explained, believes in teamwork and innovation, with a strong emphasis on leadership with passion. Entrepreneurship is encouraged at Ufone, along with freedom with responsibility. Other core values he outlined were humility in relationships, commitment and fun.
The session concluded with an interactive Questions and Answers session followed by an online test.