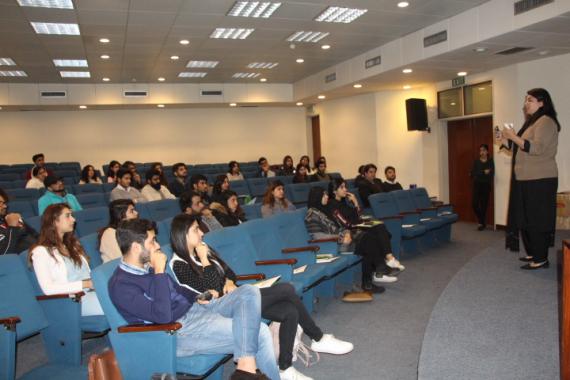 Teach for Pakistan conducted its campus drive at LUMS on February 26, 2019. Maham Tanveer, Head of Fellowship Program Recruitment, Teach for Pakistan, started the session with a video presentation that gave a brief introduction of Teach for Pakistan.
Teach For Pakistan is an independent non-profit company on a mission to build a movement of diverse and capable leaders committed to eliminating educational poverty in Pakistan. Teach For Pakistan is a part of the Teach For All global network of 48+ independent national organisations working to end educational inequity.
Ms. Tanveer then invited Khadija Bakhtiar, CEO, Teach For Pakistan, who took the stage and made the case for every child having the right to study and the corresponding opportunities that come to individuals who have gone to school. She also shared her experience and journey with Teach for Pakistan. Ms. Bakhtiar then gave details about the Teach for Pakistan Fellowship Programme and the application process. Moreover, she talked about the Teach for Pakistan alumni and their current status in the job market. At the end of the session, the Teach for Pakistan team answered questions from the participants.