Wednesday, November 27, 2019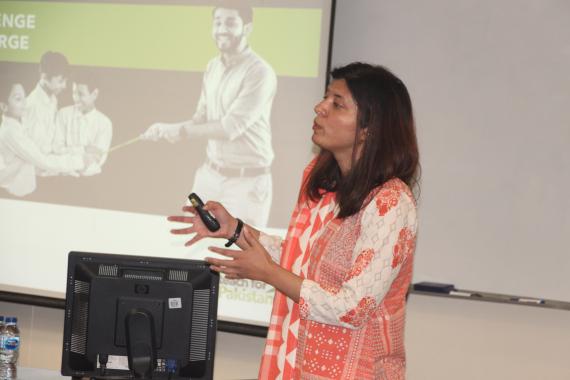 Teach for Pakistan held its 2019 Recruitment Drive 2019 on Thursday, November 21, at the Sayeed Saigol Auditorium, Academic Block, LUMS.
Ms. Maham Tanveer, Manager Recruitment & Selection, started the session with a video presentation that gave a brief introduction of Teach for Pakistan and its Fellowship Programme. Teach For Pakistan is an independent non-profit company on a mission to build a movement of diverse and capable leaders committed to eliminating educational poverty in Pakistan. It's a movement of recent graduates and young professionals who commit two years to teach in Pakistan's under-resourced schools and go on to become lifelong leaders working from across all fields to expand educational opportunity.
Teach For Pakistan is supported by Teach For All, an international network of over 45 independent social enterprises including Teach For America (US) and Teach First (UK) that are working to expand educational opportunities in their nations by enlisting their most promising future leaders in the effort. Partners of the network aspire to the vision that one day all children will have the chance to attain an excellent education.
Ms. Tanveer also shared her experience and journey with Teach for Pakistan, why she left other NGOs and joined this movement. She then provided details for the Teach for Pakistan Fellowship Programme and the application process. Moreover, she shared alumni success stories from Teach For Pakistan and their current positions in the job market.
The session ended with an interactive Questions and Answers session.