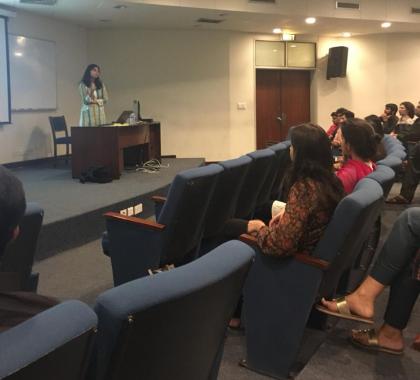 The Citizens Foundation (TCF) conducted its recruitment drive for their summer volunteer Social Internship Programme 2019 at LUMS on April 5, 2019.
Ms. Joti Ghani, Assistant Manager Volunteer Programme, represented the organisation and started the session by a well-rounded introduction of the TCF Summer Programme and the scope of the work generally done by the organisation.
The Citizens Foundation (TCF) is a professionally managed, non-profit organization set up in 1995 by a group of citizens who wanted to bring about positive social change through education. 24 years later, TCF is now one of Pakistan's leading organizations in the field of education for the less privileged.
Ms. Ghani explained to the students that TCF has a huge network of almost 1500+ schools ranging from primary to secondary level with a total of almost 20000 students that have been facilitated so far.
Pakistan has almost 25 million out of school children a number roughly equal to Australia's entire population. Ms. Ghani explained that TCF schools are functional across Pakistan in almost 109 towns/cities with a 1:1 male to female ratio. The foundation has 17,400 current employees - faculty and staff at schools, regional and area offices with a 12000 strong female faculty. 23,300 alumni have graduated from the TCF school system among which 88% went on to enrol in college.
Talking about the Summer Volunteer Social Internship Programme Ms. Ghani shared that the Programme is an opportunity for distinctive experimental learning and provides a gross root level exposure to the on-ground realities of challenged areas within Pakistan while bringing new perspectives to the individual thought process of the internees.
The internship has two areas where the internees can apply themselves:
Teaching internship
A teaching programme aimed at preparing TCF secondary school graduates for tertiary education and facilitating their personal development.
Office Internship
Non-teaching Program (Regional Offices)
The in-office category interns are required to work in administration, collecting and managing data.
The presentation concluded with an interactive Questions and Answers sessions after which interested students registered on the spot.