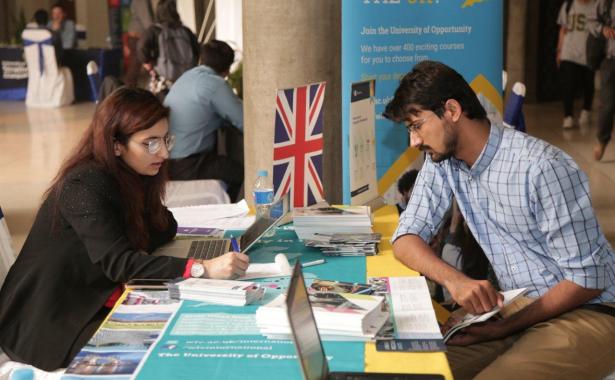 The Career Services Office (CSO) at the Office of Student Affairs, partnered with the British Council to assemble 20 top-ranked universities from the United Kingdom at the LUMS campus on October 31, 2017. Counsellors had flown in from UK to provide one-on-one advisory services to graduating students looking for higher education placements in the country elaborating on admissions, scholarships and entry requirements at these universities during the session.
The universities were extremely happy with the brilliant and interactive students who visited the information counters in droves, and were most content with the quality of facilitation provided by CSO and LUMS in pulling off a most successful event. Universities present at the event included, University of Lincoln, University of Glasgow, University of Edinburgh, University of Northampton, Queen Mary University of London, University of Southampton, University of Essex, University of Dundee, University of Leeds, University of Strathclyde, University of Manchester, Durham University, Aston University, University of Nottingham, University of Warwick, University of Surrey, University of Stirling, University of Kent, University of Wolverhampton and University of Hertfordshire.
In its sustained efforts to provide optimal services to our graduating students right here on campus, the CSO also plans to hold a similar fair with leading universities from north America, mainland Europe and Australia later this year.