Wednesday, November 13, 2019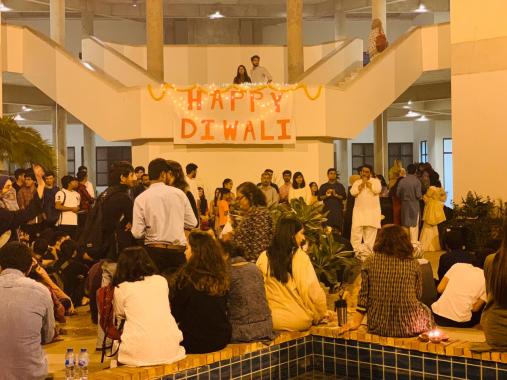 This year, on the occasion of Diwali, the LUMS Central Courtyard was full of bright music and twinkling diyas. Colours stained the floor as students came together to make the rangoli, intricately tracing the designs. A big 'Happy Diwali' banner along with some lights were draped over the balcony. Organised by Hum-Aahung, a student society dedicated to interfaith harmony and the celebration of diversity through dialogue and peace-building, the event aimed to celebrate the festival so that Hindu students away from home can get a taste of the celebrations they might be missing out on.
Hamna Aamir, President Hum-Aahung, warmly welcomed the guests, after which Society Patron and Assistant Professor at Mushtaq Ahmad Gurmani School of Humanities and Social Sciences, Dr. Maryam Wasif Khan, provided a brief introduction of the society's work.
One of the Hindu students in attendance narrated an account from the Hindu belief, explaining the origins of Diwali and its significance. Hindu attendees then participated in a small prayer. Towards the end of the event, a few students lit up phuljarriyan as a marker of how Diwali is traditionally celebrated.
A highlights of the night was the mithai that the society distributed amongst the students, staff, and faculty. Yellow flower bracelets were also distributed as a sign of welcome among the Hindu students. The turnout for Diwali this year was wonderful, everyone present left with a happy heart and joyous feelings.