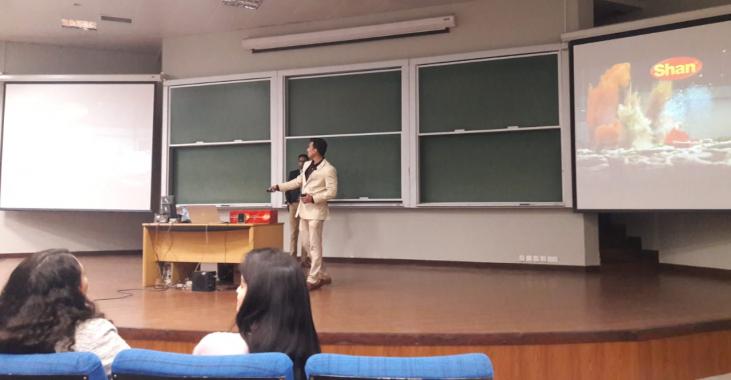 Shan Foods conducted its recruitment drive for their Management Trainee Programme 2019 at LUMS on February 27. Abdul Nafay, Management Trainee HR, Shan Foods and a LUMS alumnus started the session by giving a brief introduction of the company and his journey from being a LUMS graduate to working at Shan Foods. He shared that the company started operating in 1981 with a single room and now in 2019 it exports its products to over sixty countries across the globe. He further explained the 5-step process of recruitment from online registration to the final interview.
Talha Sofi, HR Business Partner, Shan Foods, explained the company's vision and mission of becoming an iconic culinary brand which is part of every table, every day, across the world. He also shared the company's major functions that range from Human Resources to Sales and Manufacturing. Shahrukh Khan, Management Trainee Sales, Shan Foods, and also a LUMS alumnus then took the stage and shared his experience with Shan Foods as an employee. He explained that Shan Foods has an almost 48% share in spice production throughout Pakistan.
The presentation concluded with an interactive question and answer session at the end of which the audience also got a chance to win prizes in a quiz. After the session, an online recruitment test was held for LUMS students.