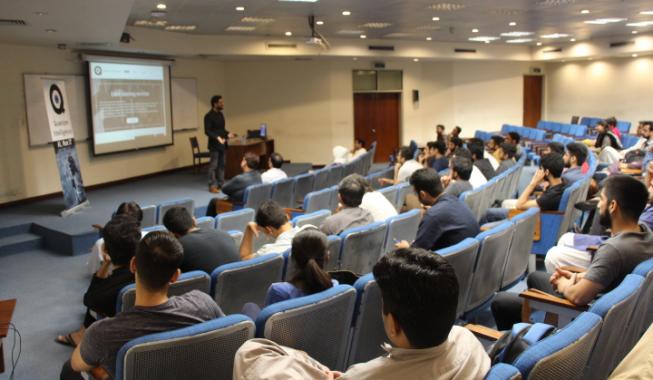 Sharjeel Lasharie, CEO Quantum Intelligence, started the session by introducing himself and his colleague Iftikhar Shahid, VP Operations. Mr. Lasharie gave a brief introduction of the company and informed attendees that since 1988, experts at the company have been creating AI and Machine Vision solutions for their customers from the Middle East and South Asia to the United States. Their solutions have addressed a variety problems including risk management, complex costing, customer behavior understanding, and defense and security.
Their products include Spectre, a license-plate recognition system built from the ground-up on Deep Learning. Their clients come to them for their parking management solutions and Quantum Intelligence then works with them to create a customised plan of action for their client's specific problem or opportunity.
Later, Mr. Lasharie highlighted that the company believes in quality work and are looking to hire energetic candidates who are knowledgeable in artificial intelligence, machine learning, coding and are also good programmers. In the end, he explained the recruitment process which begins with an online application followed by a test and ends at a panel interview.
The campus drive then ended with an interactive questions and answers session.