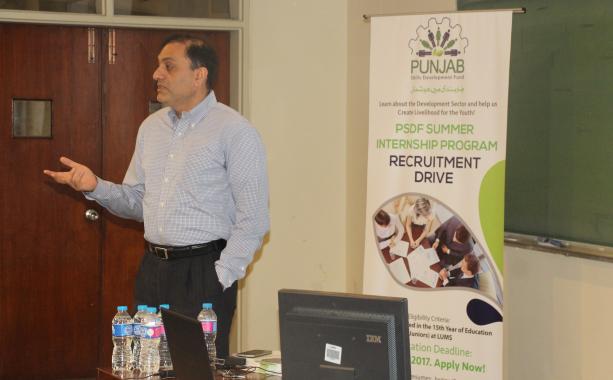 Punjab Skills Development Fund (PSDF) conducted its campus drive at Lahore University of Management Sciences (LUMS) for its Summer Internship programme on May 9, 2017. Ms. Rimshaw Khan, Management Associate Programme Development, started the session by giving a brief introduction of the team members and the company to the target audience. She informed the students that PSDF is a not-for-profit company which was setup in 2001 by the Government of Punjab in collaboration with the Department for International Development, UK. She informed the audience that PSDF is a fund that invests in the technical and vocational training of the poor and vulnerable Pakistani youth so that they can become contributing members of the economy. Furthermore, she highlighted that PSDF has trained 150,000 youth members in 200 trades and is working with over 250 private and public sector training providers.
Following this, Mr. Jawad Khan, CEO, took the stage and said, "We shape the future and well-being of vulnerable youth so that they can find sustainable employment and income generating opportunities in Pakistan and beyond". In the end, he elaborated that the objective of the Internship Programme is to give students a hands-on experience of the development sector, while also instilling in them a sense of social responsibility.
The session concluded with an interactive question & answer session.