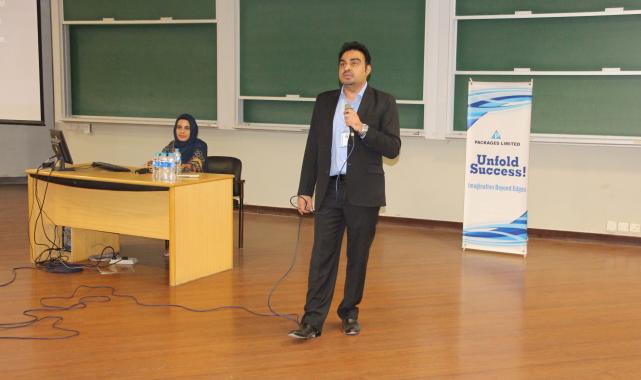 Packages Limited conducted a recruitment drive for its Internship Programme 2017 at Lahore University Management Sciences (LUMS) on April 28, 2017. Mr. Jawad Gilani, Head of Human Resource, Packages, started the session by introducing the company. He elaborated that Packages was established in 1956 as a joint venture between the Ali Group of Pakistan and Akerlund & Rausing of Sweden. Packages provides premium packaging solutions for exceptional value to individuals and businesses and its clientele includes illustrious names such as Unilever, Nestle, KFC and Pakistan Tobacco Company among several others. The organisation manufactures three types of products including flexible packaging, folding cartons and consumer products.
Ms. Fatima Qadir, Assistant Manager, Human Resource, Packages, then took the stage and explained the internship programme in detail. Ms. Qadir told the audience that the organisation looks for individuals who possess attributes like problem-solving, are goal oriented, intelligent and creative. She further said that the company will be offering a six weeks' internship by dividing them into two sessions (May and July 2017). Eligible students need to have a major in either Business, Engineering, Arts and Sciences.
The session ended with an interactive question and answer session.