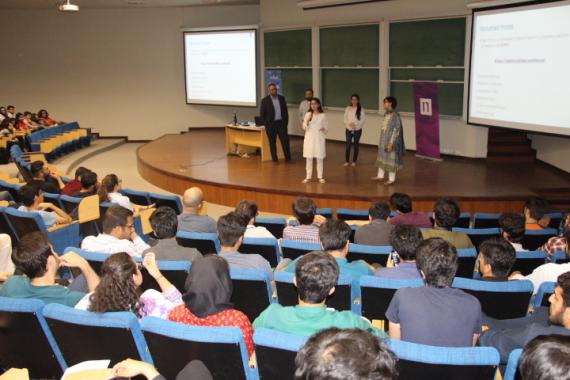 Nielsen conducted a recruitment drive at LUMS on April 8, 2019. The session commenced with an introduction of Nielsen and their team members by their Manager – Human Resources, Sana Saleem.
Nielsen is a global measurement and data analytics company that provides the most complete and trusted view available of consumers and markets worldwide. Elaborating on their mission to provide clients with the most comprehensive understanding of consumers and the markets worldwide, Ms. Saleem further explained how Nielsen transforms data into meaningful insights, and productive information for their clients.
After that Mehr Shahzad, a LUMS alumna took the stage and shared her experience at Nielsen and how she has been trusted and been given impactful projects which has been a key factor in her growth as a professional.
Through sustainable and responsible business practice, Nielsen cares about the communities they are present in and take new initiative under their social responsibility programme in order to give back. They run various programmes such as Nielsen Cares and Nielsen Green all over the world.
Syed Moutasim Ehsan, Director - Operations & Technology at Nielsen, also shared his experience of working at the company, stating that Nielsen is operating in 106 countries, with around 498 offices worldwide and 40,000 associates. He spoke about the various clients that Nielsen caters to, including Nestle, P&G, British American Tobacco and Unilever. He also highlighted the culture at Nielsen, the work-life balance, employee resource groups, Nielsen events, and its global community outreach.
Ms. Saleem then took the stage again and explained career progression at Nielsen, she mentioned two examples, Arslan Ashraf who joined Nielsen as Research Executive in 1998 and now is Managing Director, East Zone, South Asia, China, North Asia and Pacific and Nida Anwer, who joined as Executive RMS in 2008 and in became Associate Director in 2015. In the end, she explained the recruitment process to students and took questions from the audience. The session concluded with a written test.