Tuesday, October 15, 2019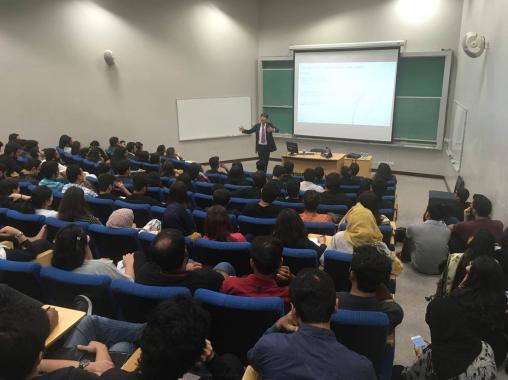 McKinsey & Company held an information session at the Suleman Dawood School of Business at LUMS on October 10, 2019. The session was conducted in order to launch the company's recruitment drive, 'The Young Leadership Programme' (YLP). Senior members of the firm's management team were also present at the event to give an overview of the programme to the enthusiastic students in attendance.
Salman Ahmad, Senior Partner at McKinsey & Company, commenced the session by introducing himself and the firm. He shared that McKinsey is a global management consulting firm that is deeply committed to helping institutions achieve lasting success. It helps their clients make significant and lasting improvements to their performance and realise their most important goals. With more than 120 offices in more than 60 countries, across industries and functions, they bring unparalleled expertise to clients anywhere in the world.
Mr. Ahmad discussed the values, vision and mission of the company. He discussed the approach of planning a career, and motivated the students to apply for the programme and become a part of the esteemed organisation.
Nadia Khan, Senior Recruiter and Professional Development Manager at McKinsey & Company, presented an overview about the YLP. The programme will require participants to work in teams of three to five consultants to help organisations in Pakistan, across private, public, and social sectors, and solve their most difficult problems. They will also work with many experts, from data scientists and researchers to software and app designers.
Ms. Khan explained the application process, deadlines and eligibility criteria. She informed the students about the company's specific requirements for formatting CVs and shared key steps to join the YLP. She also shared that McKinsey will be organising coffee chats and workshops at LUMS in the future.
Mosa Barlass, Junior Partner at McKinsey as well as a LUMS alumnus, was also present at the event and shared his experience about working with the organisation. The event concluded with an interactive Question and Answer session, which gave the students an opportunity to clarify their concerns and queries.