Wednesday, October 25, 2017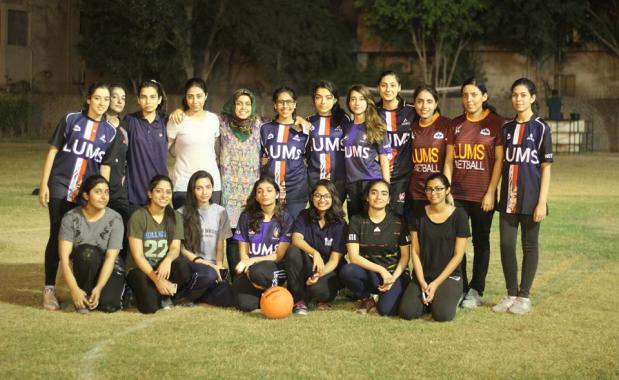 The Lahore University of Management Sciences (LUMS) hosted the Women's League 2017, organised by the Department of Sports, Wellness and Recreation in collaboration with student society, Sports at LUMS (SLUMS). The mega sports event included nine sports: athletics, badminton, basketball, cricket, futsal, netball, table tennis, volleyball, and hockey. Female athletes from colleges and universities including Lahore School of Economics (LSE), The Univeristy of Lahore (UOL), The Foundation for Advancement of Science and Technology (FAST), National University of Sciences and Technology Electrical and Mechanical Engineering (NUST-EME), Crown College, Univeristy College London (UCL), Salamat College, Queens Hockey Club, Illuminated, National College of Arts (NCA), Aga Khan Youth and Sports Board (AKYSB), Unique, Home Economics College and Kinnaird College participated in the event.
The young women of SLUMS took this opportunity to not only highlight social causes but also give back to the larger community. This year, the ideology behind the Women's League was 'Women Empowerment.' SLUMS went a step further by holding training and awareness sessions for students from the SOS Children's Village. They were provided basic coaching for cricket and competed against each other. Students were divided into groups of 10, each group assigned to 2 senior representatives. Intra-group ice-breaking sessions were held and they were taught interactive skills. In addition to this, they were part of focus groups in which they met talented people from LUMS. All these efforts were done to make them feel that they are a part of our community.
During this event SLUMS members took it upon themselves to highlight acid attacks, since this issue is neglected when talking about domestic violence. A talk was conducted where the victims of these incidents and heads of organisations working for these victims, were asked to share their views. It was agonising to listen to the stories of these victims but institutions like 'Diplex Smileagain Foundation' has worked tirelessly to make the lives of these victims better.
To take a break from matches and talks, SLUMS arranged a food street in which different food stalls from well-known proprietors came together to provide quality nourishment to the participants at a lower rate.
The day of the finals was a heated affair, with the first ever-intervarsity female swimming competition Women's League and teams competing to vie for the coveted first place.
During the closing ceremony, Mr. Rashid Malik, who has been awarded the Tamgha-e-Imtiaz, was accompanied with his student Ushna Sohail, who ranks no. 1 in Pakistan and 864th in the world and veteran Davis Cup holder, attended as the chief guests. They spoke about the event and how invaluable it proved to the participants. This was followed by the prize distribution ceremony where the winning teams were presented medals and certificates.
The University of Lahore managed to take second place in the event while AKYSB was declared the best delegation of the entire League. The ceremony concluded with a token of appreciation presented to the chief guests.