Friday, November 23, 2018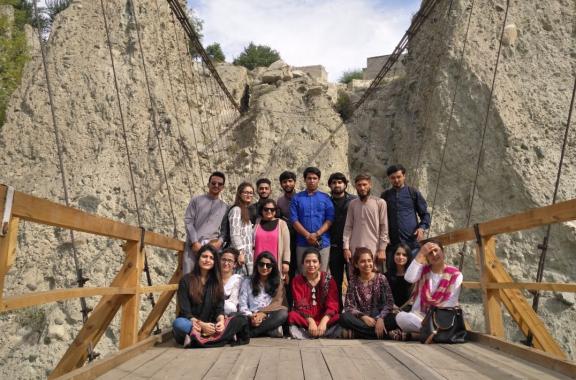 Have you ever wanted to share a poem or a song but didn't because the other person doesn't understand that language? Did you feel as if the feeling of that poem or song will never be experienced by the other person? That they were somehow missing out? Or that you won't be able to connect with them at a deeper level? But have you ever heard a song that you didn't understand but still understood? Has anyone ever said anything to you in a different language that you don't speak, yet you completely knew what they said? How do you explain all this?

These thoughts ran through my head as I sat by the riverside in Hanzal, a place on the outskirts of main Gilgit city. I didn't know there were seven, completely distinct languages spoken in Gilgit Baltistan. Neither did I expect to sing songs in any of these languages with people I just met...friends who quickly became family. Above all, I was definitely not expecting all of this to happen within the short span of three days.

Lahore University of Management Sciences (LUMS) formally initiated a Cultural-Exchange Programme with Karakoram International University (KIU) this year. The MOU was officially signed on September 28, 2018 in a formal ceremony, followed by a plantation drive on campus to commemorate the event. This event took place in main campus of KIU in Gilgit, where a group of twenty-five LUMS students were invited to initiate the exchange programme. The exchange was the idea of Hiba Zakai at the Office of Student Affairs at LUMS, along with Professors Elias and Shaw Zaman from KIU. LUMS Culture Society was involved in executing the plan into reality.

After more than 24 hours of travelling, our group arrived at KIU. Located between two mountain ranges, Karakoram and Hindu Kush, the campus was perfectly situated next to the river at the edge of the main city. What started off as an idea over tea, had turned into a new platform for cultural dialogue and understanding.

The hospitality that we encountered in Gilgit was unmatched. In-between the tours and stories, the singing and chai sessions, in the company of life-long friends was a great experience. On our first full day, the KIU students gave us a tour of their campus, which consisted of multiple departments. The deans and faculty members shared with us the rich culture and history of Gilgit-Baltistan. The Vice Chancellor of KIU highlighted the new initiatives by the university and how this new relationship could provide opportunities for students of both institutions.

On our last full day, the group of KIU faculty and students took us to Hunza, a two hour ride from Gilgit city. On the way we stopped at Rakaposhi for breakfast. Soon afterwards we were on our way to the Hunza Campus of KIU. Located on top of a small mountain, the campus gave a perfect view of the valley. I was surprised how anyone could focus on studding with such a splendid view. We also made our way through the bazaar in Karimabad, with our local friends guiding us. Our next stop was Attabad Lake. Although it is a picture perfect location, the story behind it coming into existence is quite tragic. Our new friends told us how the lake replaced entire villages in its path. However, they also said there were some positive externalities linked to its formation. After a thoughtful and windy boat ride, we headed towards our last destination. As the sun slowly set behind the mountains, we drove on towards the majestic Passu Cones.

Before dinner that day, a reflection session took place. Students from both universities shared their experiences. It was overwhelming to think that the next day we would all be leaving back to Lahore, but we agreed that the past few days were beyond what we could imagine. We were leaving behind a part of us and taking a whole new world instead. The night of laughter, singing and reflection came to an end with a invitation for KIU to come to LUMS.

The reason I started off talking about languages is because within culture, language is one of the most important things that binds, and divides us. However, the truly inspiring aspect of this exchange was the realisation that there is more that binds us together than pulls us apart. More than what you say, it's about how you say it. I am extremely proud to be part of the core team for this initiative because I believe this is the kind of interaction which holds the power to transform the future of our nation. Experiencing and understanding diversity is one thing, but appreciating and contributing to it is what is more important. I hope this was the first step in a long journey of cultural exchanges, and I hope students take advantage of such opportunities. As for me, Gilgit no longer seems all that far away anymore.