Thursday, November 7, 2019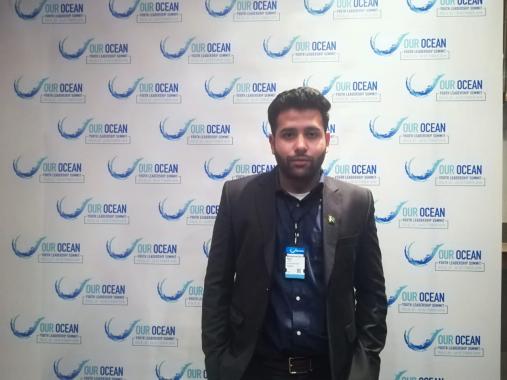 Muhammad Sarim Raza, a Management Science student at the Suleman Dawood School of Business at LUMS represented the University at 'Our Ocean Youth Leadership Summit' in Oslo, Norway, from October 23-24, 2019. The conference provided youth participants an opportunity to inspire, inform and build holistic solutions that better balance the needs of society, industry and the ocean environment.
The two-day event, co-hosted by the Sustainable Ocean Alliance (SOA) and the University of Tromsø, in cooperation with the Norwegian Ministry of Foreign Affairs, was filled with discussions and debate that showcased youth-led ocean solutions and entrepreneurial innovations. The summit also created a networking opportunity for youth to engage with leaders in policy, industry, research, government initiatives and ocean conservation.
During the sessions, Raza worked in a team of five people to develop an idea, which incentivised sustainable fishing practices by small scale fishermen, which he pitched with his team to a panel of esteemed judges. The team consisted of participants from Egypt, Canada, Norway and Ghana. The summit also had insightful talks given by prominent leaders including Mr. John Kerry, Former United States Secretary of State; His Highness Mr. Haakon, Crown Prince of Norway; Ms. Erna Solberg, Prime Minister of Norway, and Mr. Afroz Shah, Champion of the Earth, United Nations Environment Programme.
Talking about why the ocean environment and sustainability is an important issue for him, he said, "The value of the global ocean-based economy is estimated between USD 3-6 trillion per year and more than 3 billion people rely on the oceans for their livelihoods. For me protecting the oceans is protecting those 3 billion people and protecting the living creatures who call the ocean their home."
Raza also had the unique distinction of being one of only two people selected from Pakistan for this summit, and was able to travel to Oslo all expenses paid. The summit has a very strict selection process and only 100 youth leaders were selected out of a pool of thousands of applications. The selection criteria is based on the following: a prototype ocean solution, a video describing why you want to attend the summit, a questionnaire which tested how much you know about the subject and a personal profile.
Raza gives credit to LUMS and the LUMS Entrepreneurial Society for his selection to the summit saying, "The holistic educational experience at LUMS enables you to learn so much about the world, which I feel has made all the difference for me. I am currently the president of the LUMS Entrepreneurial Society, and the three years that I have spent in the society were an integral factor that enabled me to attend this summit."