Wednesday, March 20, 2019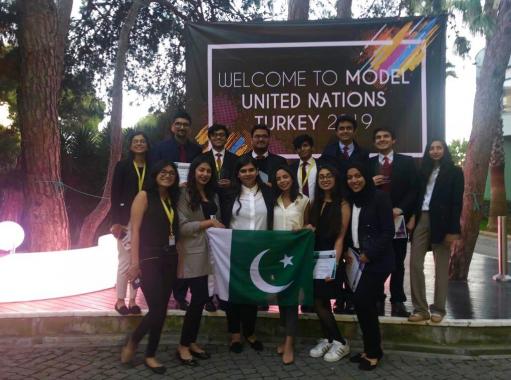 A delegation of 14 undergraduate students from the Lahore University of Management Sciences (LUMS) has won the Best Delegation Award at Model United Nations Turkey (MUNTR) Conference held in Antalya, Turkey from March 4–8, 2019. Nikhat Fatima headed the LUMS delegation that consisted of Zobia Akhtar, Alina Majeed, Mishaal Tayyab Pasha, Namra Tahir, Amna Atif Shaikh, Baneen Abbas, Momena Javaid, Syed Imaad Hasan Jafri, Amar Lal, Muhammad Fateh Farhan, Omar Rashid, Syed Shaheryar Hussain and Areeb Zafer.
LUMS received the Best Delegation Award after winning 13 awards during the conference, including 5 Best Delegate awards, 7 Outstanding Delegate awards and 1 Honorable Mention award. The team secured competed with 56 teams (600 participants) from all over the world including 4 other teams from Pakistan from Nixor College, Froebels International, KYMUN, and CBM.
MUNTR is considered to be the biggest and most prestigious Model United Nations Conference in Turkey and in its surrounding region. The LUMS delegation also secured the Best Delegation award at MUNTR last year.