Thursday, December 6, 2018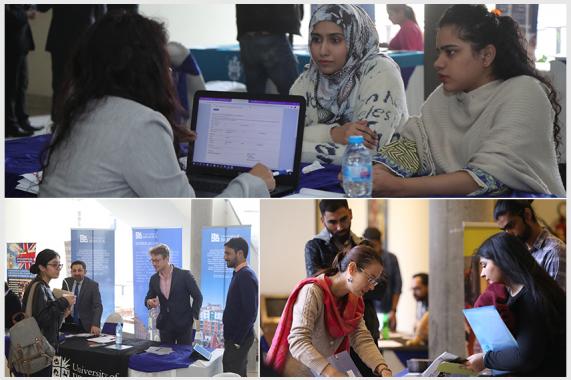 The Career Services Office (CSO) organised the 'Eight Annual Education Fair 2018' at the Lahore University of Management Sciences (LUMS) on Wednesday, December 5, 2017, where international offices and representatives of renowned universities participated.

The purpose behind such initiatives is to provide a platform to LUMS students where they could develop contacts with university representatives to discuss their future educational plans, explore different degree programmes and course options and understand the admission procedure. The fair was quite helpful and useful for the students who were interested in applying to universities abroad and many students particiapted with so many questions to get answered. It helped them to opt for better courses and select a suitable university for further studies.
"Its a very helpful fair, having all universities at one place is very exciting and i am looking forward to grab more and more information, as I am planning to apply to universities abroad next year," shared Arooj Masud, Computer Science student at LUMS.

Since its inception in 2009, the LUMS Annual Education Fair has evolved into a mega educational event at LUMS with many international institutions and consulting agencies attending it every year. CSO conducts such initiatives and exhibitions to expedite the higher education placements of students.

A wide range of special events including one-on-one consultations, presentations by representatives of different universities, sharing insight on latest educational opportunities and trends were organised. The participants were provided with essential information on a wide range of educational opportunities offered by various international universities.
Ms. Inge Iqbal, Director, DAAD Information Center Islamabad shared her experience by saying, "It is delightful to see students throng our stall and that so many of them are interested in joining German universities. This will definitely strenghthen educational and research opportunities between Paksitan and Germany."

The following international offices of higher education institutions participated in the Fair:
• Queen Mary University of London
• United States Educational Foundation in Pakistan (USEFP)
• University of Bristol
• University of Manchester
• University of Hertfordshire
• Durham University
• La Trobe University
• Sheffield Hallam University
• King's College London
• Cardiff University
• Deakin University
• University of Leeds
• Macquarie University, Australia
• University of Nottingham
. University of Glasgow
. German Academic Exchange Service (DAAD)

Leading Educational Consultancies also participated and together these represented more than 100 prestigious universities of the world.