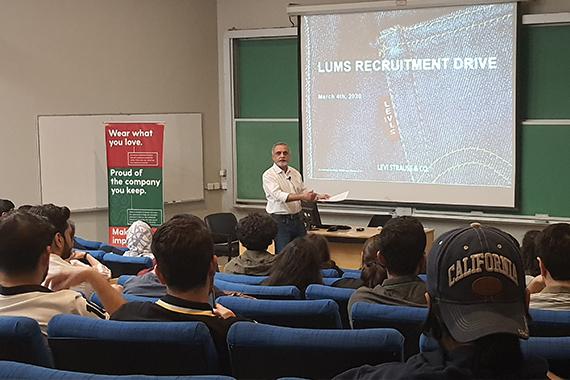 Levi Strauss & Co. conducted their campus drive on March 4, 2020 at LUMS. The session was led by Mr. Zubair Aslam, Senior Director Product Development & Sourcing, Levi Strauss & Co. who spoke about his journey with Levi Strauss & Co. (Levi) and its historical background. Mr. Aslam informed the audience about the two main operations Levi's has in Pakistan; global sourcing and retail. He explained that the company has built sustainability in everything they do in order to leave the world in better shape than they inherited it.
Mr. Aslam spoke about the four core values at Levi Strauss & Co. which are empathy, integrity, originality and courage. The company has four brands including Levis, Dockers, Signature and Denizen. He also talked about how in the last decade Levi has shifted focus on retail from just being a wholesaler. Mr. Aslam shed light on the history of Levi, which was founded in 1853 and shared interesting facts about the company.
Levi aims to reduce water wastage of its vendors in Pakistan by 75% in the next four years and hopes to improve the workforce ratio as well. Mr. Aslam mentioned that the company has been listed as one of the the top 10 companies in the United States and one of the best when it comes to diversity, equality and inclusiveness. He informed the audience that Levi is looking for people who can become future global leaders and talked briefly about the application process.
The session ended with an interactive Questions and Answers session.