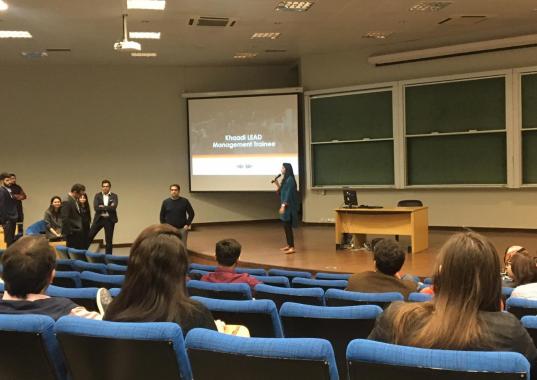 Pakistan's most popular retail brand, Khaadi conducted a recruitment drive for its 'Khaadi Lead Management Trainee Programme (KLMT) and Summer Internship Programme' at LUMS. Chief Commercial Officer and LUMS graduate, Samie Cashmiri shared a brief introduction of the company. He said, "Khaadi is an Urdu word which means 'hand-woven'. The company started its operations in 1998 in Karachi, Pakistan. They have a state-of-the-art infrastructure with 150+ product categories, 1200+ employees with 43 stores across Pakistan and 20 stores in 4 countries in a span of 21 years."
LUMS MBA alumnus and Director Retail Fabric Stores, Saad Ali addressed the students and said that Khaadi is the best place to work. "There are 42% women among the employees and 30% are in top leadership. It is a young company, which takes pride in the endless growth opportunities it provides both professionally and personally," he said. Mr. Ali also talked about the various factors that make Khaadi one of the best brands in Pakistan.
Anam Inam, HRBP Talent Acquisition explained the recruitment process for both the programmes. She shared that the Lead Programme provides rigorous training and exposure to graduates and offers amazing benefits including market leading remuneration packages, discount on Khaadi products, car allowance, pick and drop for female employees, relocation benefits and medical facilities.
The session ended with an informative Q&A session.