Monday, February 11, 2019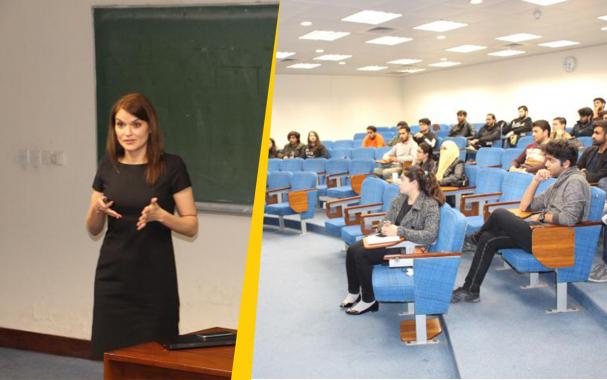 The job market is continuously changing around the world and students need to prepare themselves accordingly. In order to help students get valuable insight into how to compete in a dynamic job market, the Career Services Office (CSO) arranged a session, 'Jobs of the Future: Are You Prepared for Them' on February 7, 2019 at LUMS. The session was conducted by Irina Deneanu, Associate Director for Asia Pacific at IE University, Spain. Ms. Deneanu has studied Business Management at the University of Economics in Romania and is an IE Alumna holding a Global MBA degree. She is an executive with more than 14 years of professional experience in international development, marketing and sales and is an expert in building business ties across different business stakeholders in various regions. Ms. Deneanu is also a speaker on career transitions and coaches professionals from around the world helping them to develop their professional careers and education.
At the session, Ms. Deneanu encouraged students to think about what factors are shaping today's world and the consequences that technology has on our daily human interactions. She also discussed how to understand the job market and the continuously changing company structures and leadership roles. The session helped students understand, the skills companies are looking for as job opportunities evolve, how job roles are going to look like in the future and most importantly, how young professional can fit into this new reality. Ms. Deneanu also recommended that everyone should focus on a range of skills to succeed in today's world including; complex problem solving, critical thinking, creativity, people management, communicating with peers and cognitive flexibility. Students in attendance analysed real company examples and participated in an interactive question and answer session in the end.