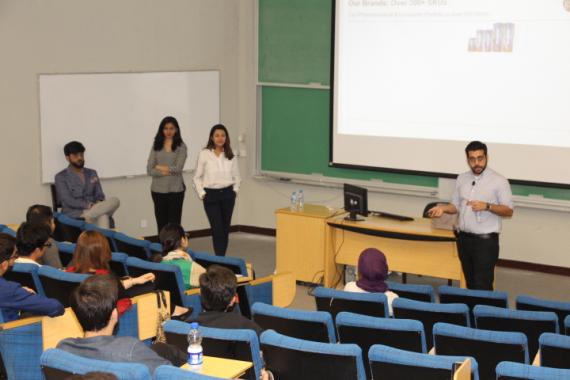 GlaxoSmithKline (GSK) conducted its recruitment drive for their Future Leader Management Trainee (MT) Programme 2019 at LUMS on April 1, 2010. Momina Durrani (Human Resource - Lead Recruitment GSK), started the session by giving a brief introduction of the company and the team. She explained that GSK is a British pharmaceutical company headquartered in Brentford, London.
Established in year 2000 by a merger of GlaxoWellcome and SmithKline Beecham, GSK has 3 global businesses that research, develop and manufacture innovative pharmaceutical medicines, vaccines and consumer healthcare products. Their goal is to be one of the world's most innovative and trusted healthcare companies in the world.
Ms. Durrani also discussed GSK Pakistan and its branches and functions. She then invited Rafay Ahmed, a LUMS alumnus, who shared his experience of working at GSK Pakistan and then informed the students that there are seven different products of GSK, which are prescribed by physicians in Pakistan. He then invited Hassan Sajjad, another alumnus from LUMS who briefly shared his experience from being a LUMS graduate to getting a career head start with GSK and shared the dynamic work environment of GSK. He then invited Ensherah Khan (Human Resource – Recruitment GSK) who discussed the application process of the GSK MT Programme.
The event ended with an interactive question and answer session.