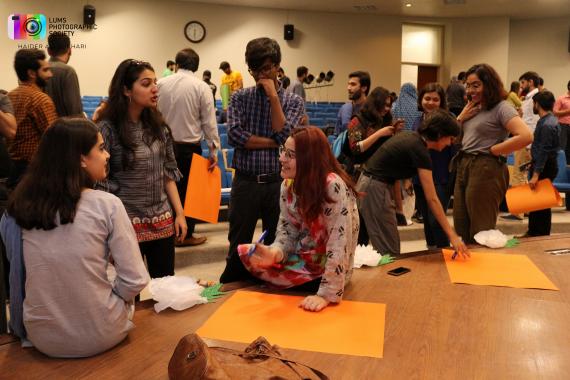 LUMS is one of the leading institutes in the country with numerous student societies that cater to a wide variety of interests. This year students organised 250+ events, engaged a student body of 4000+ students and hosted more than 15000 external delegates. These societies also provide a platform for students to represent LUMS and exhibit their skills in different competitions, winning accolades not only nationally but internationally as well.
This year the Co-Curricular Activities Office and Office of Student Affairs with the collaboration of LUMS Daily Student organised the LUMS Annual Student Society Awards to recognise the efforts of brilliant individuals within the student body. This year the awards were based on the core values LUMS strives to achieve, which include tolerance, integrity and respect for diversity. The awards given were as follows:
Animal Welfare Society and Psychology Society – Awards for Compassion
IEEE LUMS Chapter, Culture Society and AIESEC in Lahore – Awards for Diversity
Debates and Recitation Society and Literary Society – Awards for Merit
Dramatic Society, Feminist Society and SPADES – Awards for Resilience
Finance Society, Consultancy Society and Community Service Society - Awards for Integrity
Hum Ahang and Religious Society - Awards for Pluralism
Model United Nation Society and Professional Accountancy Society - Awards for Excellence
Media Arts Society and Music Society - Awards for Innovation
LUMS Daily Students and Law and Politics Society - Awards for Fellowship
Entrepreneurship Society and Photography Society - Awards for Service

The CCA Office also presented a token of appreciation to all individuals who helped CCA facilitate students throughout the year. A vision and procedural training for the new leadership of the student societies was also held to help craft society plans for the coming years. Head of Department CCA, Hiba Iqbal Zakai along with the CCA team moderated the entire session. All the students sat with their respective team members and drafted their vision on paper and presented it in front of all other students. Dean Office of Student Affairs, Adnan Khan and Patrons of all societies also joined the students for tea.
National Foods were official sponsors for this successful evening.