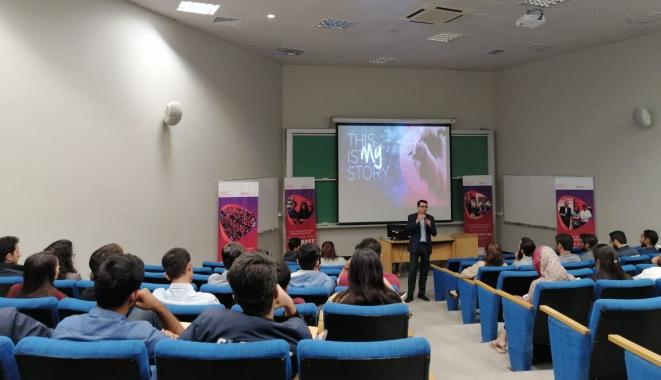 Coca Cola İçecek (CCI) Pakistan hold a 'Gup Shup Session' with its Director HR as part of its recruitment drive for their Management Trainee (MT) Programme on Mar 5, 2020 at LUMS.
CCI is the sixth-largest bottler within the Coca-Cola system in terms of sales volume. CCI produces, distributes and sells sparkling and still beverages from The Coca-Cola Company (TCCC) across Turkey, Pakistan, Kazakhstan, Azerbaijan, Kyrgyzstan, Turkmenistan, Jordan, Iraq, Syria and Tajikistan. CCI employs more than 8,500 people and has a total of 26 plants, offering a wide range of beverages to a consumer base of 400 million.
Ms. Mehak Tariq Baig, HR Specialist CCI, started the session by inviting the Director HR and LUMS Alum, Mr. Hasan Adnan Ahmad on stage for the Gup Shup session. Mr. Ahmad introduced himself and told the audience that he has a strong association with the MT Programme as he himself joined British American Tobacco as a Management Trainee back in 1996. His journey was exciting and full of challenges where he worked on culture transformation and leadership development. He had previously interviewed for the company magazine where he was asked about his recipe for success. For him it has been his 4P's that have guided me – people, performance, potential and passion.
Mr. Ahmad spoke about how important people are in establishing a culture where they can connect and grow. He mentioned that there is no shortcut to hard work and encouraged the audience to make it a habit to operate out of their comfort zone in order to enhance their skills. Mr. Ahmad also said that passion is contagious and helps driven professionals deliver at work which is also an integral part of Coca Cola İçecek's four values.
Later, Mr. Ahmad discussed how organisations are looking at how a candidate's experience has developed and transformed them as a person. He briefly spoke about his experience of work-life balance at Coca Cola Icecek and other initiatives that they have taken to cater to personal career goals. Mr. Ahmad then introduced his team; Syed Qasim Hassan, HR Business Partner – Support Function, Ms. Arshia Ahmad Saquib, Head of Talent and Learning, Ms. Rubab Fahad, Project Manager, and Ms. Sharood Zafar, HR Executive – Organisational Development. The Gup Shup session ended with Mr. Ahmad sharing his advice on building a successful career.
The session moved onto a presentation given by Ms. Zafar and Ms. Baig who gave a brief overview about the company and the Management Trainee Programme's application process. A video was shown highlighting the environment and culture Coca Cola İçecek operates in. Mr. Qasim was then invited on stage to talk about the proposition of the company.
Later, Ms. Fahad who is also a LUMS alum shared her success story with the audience and how she grew into different roles within the company. She mentioned that they are looking for people with the right attitude, who are open to experiencing new things, willing to create an impact and think about sustainable solutions. Ms. Baig then explained a game to be played after the presentation and that the three winners will receive a 'golden ticket' which means they will directly move onto the Assessment Center.
The session ended with an interactive Questions and Answers session followed by the game challenge.