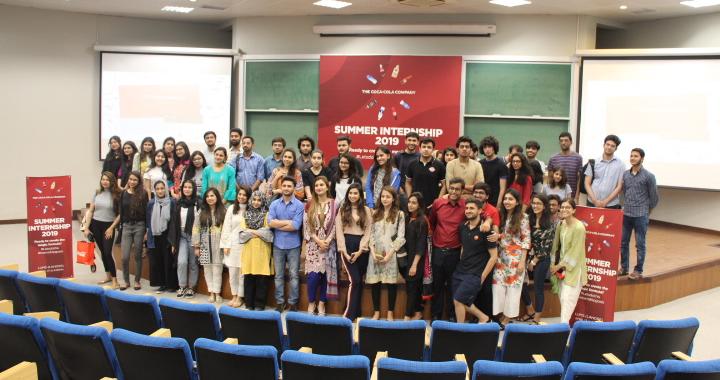 The Coca-Cola Export Corporation conducted its campus drive for their TCCEC Summer Internship Programme 2019 at LUMS on April 17. Asmara Nomani, Regional Director HR, Pakistan and Afghanistan Region, started the session by giving a brief introduction of her experience with Coca-Cola Pakistan and its team.
She then discussed the history and present workings of Coca-Cola Pakistan along with their future goals mentioning that Pakistan has a huge market amongst the Middle East and North African (MENA) countries. Coca-Cola is a heavily advertised brand not only in Pakistan but throughout the whole world. Apart from Coke studio, Coke FEST is also a great annual family event that has elevated the brand's presence in the country. Coca-Cola also reserves the credit of starting a clean water campaign and the Coca-Cola Learning Centre initiative in Pakistan.
The Coca-Cola Summer Internship hiring process covers 5 different cities i.e. Karachi, Islamabad, Lahore, Gujranwala and Faisalabad. The organisation believes in equal employment opportunity and for diversity and inclusion has initiated the "Women Entrepreneurship Program" since 2011 offering microfinance services by providing soft loans to women who want to start new businesses or expand their existing business. Ms. Nomani then discussed how the initiatives add value to team Coca-Cola and the brand by creating a dynamic culture and positioning its business to meet this generation's lifestyle.
The students were then informed about important criteria and dates. Ms. Nomani also briefly discussed the rigorous process of selection to find the right talent for Coca-Cola Pakistan. The summer internship programme is for third-year students and the function area ranges from Marketing, Human Resources, IT, Finance, Commercial, PAC to Legal Procurement. Ms. Nomani mentioned that at the end of the internship feedback/evaluation of the interns is necessary as it will eventually positively effect the interns and could make it easy for them to be a part of Coca-Cola as Management Trainee (MT) in the future.
The presentation ended with an interactive questions and answers session.