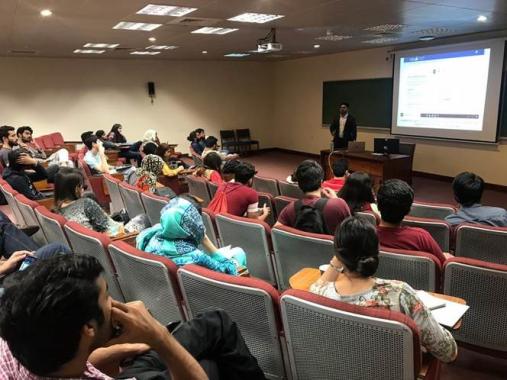 Career Service Office LUMS organised an information session on higher education opportunities in France on October 16, 2019. 2019. Overseen jointly by the French ministries of foreign affairs and higher education and research, Campus France is dedicated to the promotion of French higher education abroad and providing support services for international students, scholars, and scientists. For students in Pakistan, Campus France Pakistan provides help in finding the right programme in France, completing applications, securing affordable housing, scholarships and funding.
Sabahat Asghar, Head Campus France Pakistan, led the session and informed students of the benefits of studying in France. He provided students with details about the education institutions as well as affordable tuition fees in France.
He explained how studies are organised in France, how to find a relevant programme and how to apply. He also shed light on the eligibility criteria and how students can secure scholarships. He mentioned that the Embassy of France in Pakistan offers fully funded and partially funded merit-based scholarships to the best Pakistani students interested in studying in France.
Mr. Asghar informed the audience that Campus France has been a partner of the Higher Education Commission of Pakistan for almost ten years, and has taken care of more than 700 scholars who have studied at a Master and PhD level in French universities. He also focused on the working possibilities during and after graduation in France.
The session concluded with an interactive Question and Answer session.