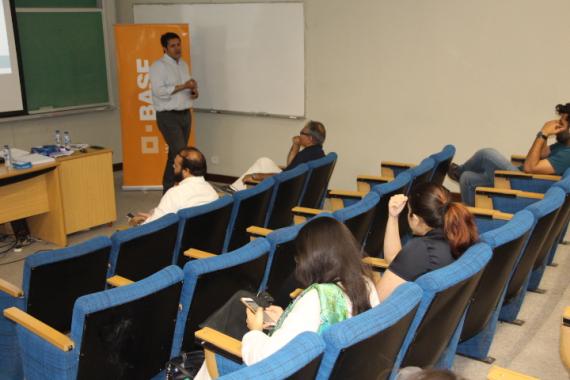 BASF held its Summer Internship Recruitment Drive on Monday, April 29, at LUMS. Nadeem Chughtai, General Manager Marketing and Sales BASF, started the session by introducing the company and himself, outlining his journey with BASF. He shared that he has almost 27 years of work experience with BASF and told the audience that globally 122,000 full time employees work presently for the company.
In the chemical sector, BASF has been an industry leader since 2000 and their operations range from NAFTA, Europe, Asia and Africa with a future plan to start operation in the Middle East. Mr. Chughtai also told attendees that BASF generated a total of €64 Billion sales revenue in 2018 while as a convention of BASF, they spend its 25% of total revenue on Research and Development (R&D). BASF chemicals contribute to various different sectors like construction, automobiles, clean water, cold drinks etc.
Mr. Chughtai then invited Imran Anjum, General Manager Agricultural Solutions, to the stage, who shared information about activities and operations at BASF and their recruitment process as well. He also shared the experience of working with two different multinational companies before he landed at BASF. He told the audience that BASF offers a diverse culture and a nice working environment to its employees, where hard work is appreciated.
Mr. Anjum then shared further details on how each intern will be given a specific project to work on and will be working under the supervision of one senior employee offering him/her real time work experience and exposure. Adding that at the end of the internship, the Best Intern Award will also be presented. He also explained that successful and willing candidates may also start a full time job at BASF.
The recruitment drive concluded with an interactive question and answers session followed by a written test.