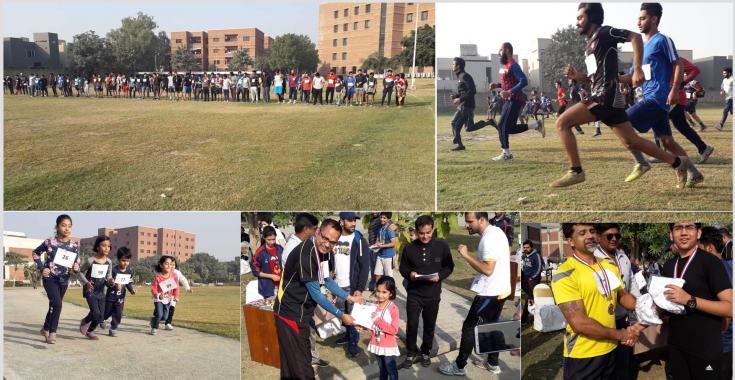 The Department of Sports, Wellness and Recreation (SWR) in collaboration with Sports at LUMS (SLUMS) organised its 5th Annual Marathon on December 2, 2018. The students participated in the 5 km race, faculty and staff in 2.5 km and children in 1 km. The event saw a great turnout and support from faculty and staff members who participated in the event with their families.

The annual marathon provides a platform to students and faculty, staff and alumni members alike to test their stamina and mingle with each other. Ali Safdar topped the student's 5 km race followed by Saad Sarwar, Nabeel haider, Wadood Ahmed, Zafar Ahmed Muhammad Uzair, Jibran Khalid, Hassan Ali, Haider Khan, Dr. Ali Khan, Dr. Adnan Khan, Tanveer Ali and Syed. In the girls category Fizzah Sajjad secured the First position followed by Ramsha Siqqiqi, Mahnoor Babar and Aimen Masood. In the faculty and staff 2.5 km race, Subhan Hameed stood first followed by Imtiaz Ahmed, Asim Ahmed, Faisal Ahmed, Naveed Shehzad, Zeeshan Malik, Muhammad Yonis, Dr. Mudassar Razzaq and Dr. Muhammad Saeed.

Besides, Alina Khan topped the female 2.5 km women race followed by Hina Khalid, Ayesha Masood, Maira Akram, Ayesha Siddiqa, Faiza Ismaeel and Hana Sadiqua . In the 1 km children race, the winners were Zain Azfar, Haadi Hassan, Haider Musa Khan, Ali Saeed, Hamza Saeed, Umer Habib and Abdullah Muizz in the boy's category while Mareeb Shakeel, Zoya Azfar, Laiba Shakeel, Ghania Batool and Ghamama Batool were the first five girls to complete the race.

Overall, everyone enjoyed the Marathon and appreciated LUMS efforts towards conducting and arranging such activities which not only are mentally and physically healthy but gives an enjoyable break in the middle of hectic routines. The enthralling and engaging event helped everyone utilise their energies in positive ways. It was an exciting experience for all who participated with their spirits high and motivation to win. All took it as a challenge and expressed gratification for such lively and happening events. The medals and certifications awarded added to everybody's motivation and they shared that they are looking forward to the next one with even more strenght and excitement.