Friday, August 19, 2016 (All day)

to

Tuesday, August 23, 2016 (All day)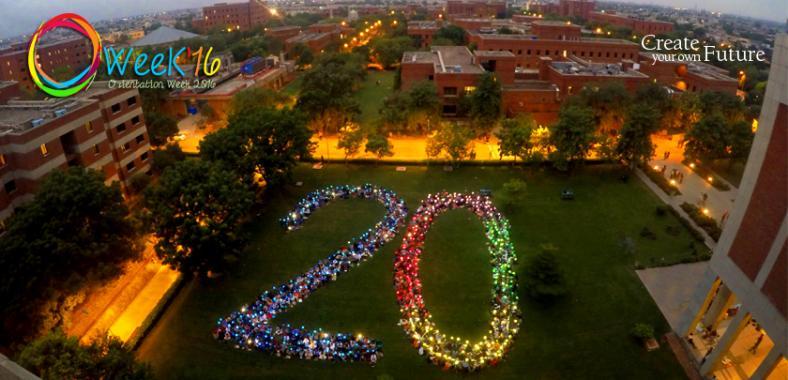 Lahore University of Management Sciences conducted its Orientation Week for the batch of 2020 from August 19 to August 23, 2016. This highly anticipated event is organised to welcome freshmen to the University as they embark upon an exciting new journey with LUMS. O-Week included various seminars by Faculty and staff to help freshmen understand the Life at LUMS. The event also featured a host of exciting activities such as a batch photo, Icebreaking sessions, Art Wall Competition, Food Street, Sports Gala, Scavenger Hunt and a trip to Joyland.
Orientation Week is designed to give students and their parents a chance to acquaint themselves with the campus and the community, by participating in group based activities. These activities not only instil a sense of pride among freshmen but also help them form bonds that will last for the rest of their lives.
The week kicked off with a welcome address by Dr. Kamal Munir, Dean, Mushtaq Ahmad Gurmani School of Humanities and Social Sciences. He congratulated the students and encouraged them to make the best of what LUMS has to offer as these four years would shape their professional careers. Throughout the week faculty conducted different seminars where students were introduced to their departments, programmes and various ways they can find their own adventure.
O-Week concluded with an Award Night where freshmen gave titles to their peers and enjoyed a scrumptious dinner. Students' excitement was only exceeded by their parents', whose smiles showed how proud they were of their children. The freshmen left the ceremony with fond memories, bragging rights and a promise for a better future.
In his welcome address to the freshmen at the awards night, Prof. Dr. S. Sohail H. Naqvi, Vice Chancellor, LUMS said: "LUMS will help you push your limits and understand your values. LUMS is about passion and let the class of 2020 demonstrate that. You have to find that passion and you have to work hard to achieve it. Each one of you is equal today. Merits, Ethics, Diversity and Tolerance is what has brought you here. These are the cherished attributes of being at LUMS."