Monday, August 25, 2014 (All day)

to

Friday, August 29, 2014 (All day)
LUMS Syed Maratab Ali Sports Complex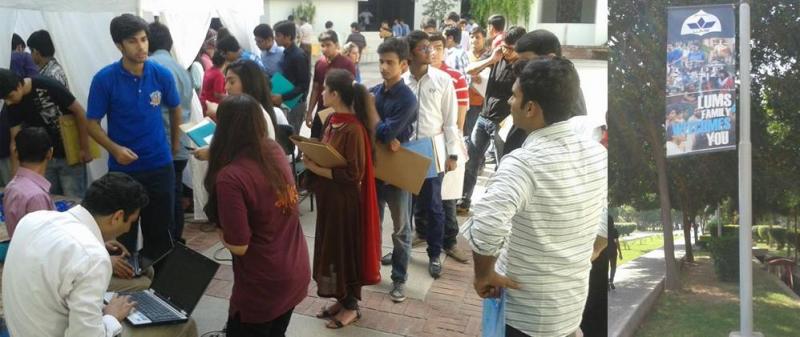 LUMS Orientation Week (O-Week) commenced today with an orientation session for parents and students of the undergraduate Class of 2018 held at the LUMS Syed Maratab Ali Sports Complex. The entire LUMS community welcomed the new class on campus.
O-Week is organised each year for the new batch to welcome them to the University as they embark on an exciting new journey through LUMS. This orientation period is designed to give students and parents the chance to acquaint them with the campus and the community by participating in group based activities, which will help equip them with vital information and provide guidance from faculty and students to make for an easy transition to university life.
On behalf of LUMS, Dr. Sohail Naqvi, LUMS Vice Chancellor, officially welcomed the parents and students of the new batch of undergraduate students at the session. Dr. Naqvi congratulated the parents and students and encouraged the students to make the most of their time at LUMS as the choices the students make now will shape their professional careers in future. Later the Deans and senior faculty of the four Schools - Suleman Dawood School of Business (SDSB); Mushtaq Ahmed Gurmani School of Humanities and Social Sciences (MGSHSS); Syed Babar Ali School of Science and Engineering (SBASSE) and the Shaikh Ahmad Hassan School of Law (SAHSOL) introduced the schools and its departments and programmes.
The welcome session was followed by a tour of the campus for the new students and their parents.