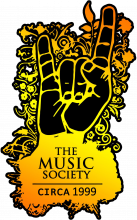 Presidents Message
The Music Society of LUMS is one of the oldest societies at the University. Ever since its inception in 1999, the Music Society has endeavored to provide a platform to those who are deeply passionate about music. It not only supports and promotes artists within the institution but also provides a voice to rising stars across the Pakistani music industry. Starting from a small group of students practicing their music in a small gathering, it has now become an organized mega-society with an active membership of over 130 students. We believe that the Pakistan music industry is in a critical stage of its revival, with an ever-growing audience, and a pool of talent that is expanding just as rapidly. In such promising times, the Music Society of LUMS is eager to play its part in furthering the endeavors of those before it.
Mahin Rashid,
President | The Music Society of LUMS
2020-21
Our Vision
The Music Society of LUMS aspires:
To evolve as accessible and recognized music promoters of existing and new genres.

To sustain and enhance a supportive and responsible community among the students.
To broaden lives through music and spread a message of positivity.
To provide a platform where students will be able to bring out the best of their talents.
Our Mission
The Music Society of LUMS achieves excellence in music that transfers to other areas in life. Our goal is not just to entertain but also to provide a creative outlet for students of LUMS. Therefore, we strive to provide a platform for the promotion of music by organising concerts and smaller events for those who want to be entertained, arranging gigs for those who want to entertain, educating and encouraging those who want to learn more about music, and bringing together aspiring musicians who wish to pursue music as a profession.
Our Core Values
People
Encouragement
Passion
Professionalism
Respect
Creativity and Excellence
Objectives
Provide meeting places for discussions and society activities throughout the year.
Execute LUMS Music Festival with more participants from across the country.
Plan and execute approved events, and provide workshops on music.
Promote original content of society members through different platforms.
Provide the society members a chance to perform on stage and showcase their talent.
Provide music lessons on production, or instrument learning to aspiring musicians.
Plan and execute approved events, while maintaining a healthy and inclusive society culture.
Contact Us
Website: music.lums.edu.pk
Facebook: https://www.facebook.com/TheMusicSociety/
Instagram: https://www.instagram.com/themusicsocietyoflums/
Email Address: music@lums.edu.pk
Address: LUMS, DHA, Lahore Cantt 54792, Lahore, Pakistan