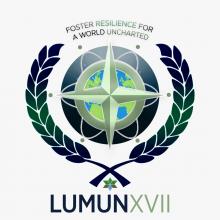 Vision Statement
"The LUMUN Society endeavors to create leaders in the youth by serving as a platform of ample opportunities targeted towards their grooming and growth, such that they may become the ambassadors of change and assets to their societies, nations, and states, and it strives to be the premier Model United Nations society in Pakistan through its flagship conference, spirit of social responsibility and leadership, and responsible representation abroad."
Mission Statement
To present an opportunity to high school, college, and university students in Pakistan and the world to engage with pressing issues of the modern-day in an environment that promotes freedom of expression and provides guidance, and carry the same spirit as ambassadors to events and conferences around the globe.
President's Message
As the pioneer of Model UN in Pakistan, LUMUN has always upheld the responsibility of paving the way for the activity to be successful in the country. To that end, we have the most successful traveling team of any institution in Pakistan, having won Best Delegation 5 and 12 times at Harvard WorldMUN and MUNTR respectively, are affiliated with multiple international organizations including the UNODC and UNDP, and organize an incredibly impactful social responsibility program.

This year, with the onset of the global pandemic, we have decided to transition all activities, including our annual conference, to the online sphere. Our theme, Foster Resilience for a World Uncharted quite accurately captures our approach to the global situation, and is one of the main values we aim to instill in our team and our delegates.

Omair Rashid
President – LUMUN 2020/21
Core Values
Honesty and Integrity
Being honest with any work related/unrelated to the Society and avoid practicing unfair means.
Professionalism
Conducting oneself with the professionalism that fits the persona of an ambassador and diplomat.
Discipline
Maintaining discipline in any and all circumstances regardless of how unfavorable they may seem.
Meritocracy
Reward hard work, determination, and valuable performances with appreciation, and instill the same drive in other members.
Justice and Equality
Provide a sense of safety and equality to members, and a sense of security which allows their concerns to be addressed and managed.
Objectives
The LUMUN Society is a non-governmental, not-for-profit, apolitical, student-run organization that aims to:
1. Spread knowledge and awareness about the workings of the United Nations and other such supra-national organizations;
2. Promote the United Nations Millennium Development Goals;
3. Promote a culture of social responsibility;
4. Inculcate a sense and spirit of leadership in the youth of Pakistan;
5. Inculcate a culture of knowledge dispersal, especially between scholars, professionals and ambassadors, and the youth;
6. Promote a spirit of discourse, diplomacy, and dialogue concerning relevant and pertinent issues, both of local, national, and international significance.