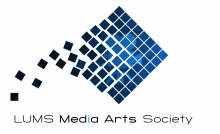 Presidents Message
The LUMS Media Arts Society (LMA) is the leading media society in the country thanks to our exceptional film making talents and our industry leading media events. LMA aims to promote film making and artistic expression not only in LUMS, but throughout the country as well. Our collaborations with the media industry and other media societies across Pakistan have strengthened our networks and have helped us become better artists, and better film makers.
We are a society of creatives that is constantly striving to improve each other as artists and as people. At LMA we will not only teach you the different modes of film making but also develop your leadership, teamwork, management, and networking skills. We are proud to say that a number of LMA alumnus have gone on to thrive in the media industry and that this number will only grow as time progresses.
LMA's flagship event, the FILUMS International Film Festival is the leading film festival in the country, while our intra-LUMS events such as Movie Trivia, Karaoke Night, and Premiere Night are all exciting events that are much appreciated by the LUMS community.
Our intra-society events that are meant to develop film making talent in our members includes Screenwriting Workshops and Filmmaking Masterclasses with industry experts, as well as many more exciting projects that we have planned for the coming year.
We are aiming to be a leading brand in the media industry and are determined to make that a reality.
Fahad Izhar Abbasi,
President | LMA
2020-21
Our Vision
To make LUMS Media Arts Society a leading brand in the media arts industry.
Our Mission
To promote the creative output in the media arts space in all our society ventures.
Our Core Values
Creativity
Passion
Collaboration
Teamwork
Culture
Our Objectives
To develop the artistic talent within LUMS
To enable our creators to pursue their passion of film making
To help our members learn and enhance their creative skills
To promote the discussion of important issues through our art
To connect LUMS to the media industry

Contact Us
Email Address: lma@lums.edu.pk
Address: LUMS, DHA, Lahore Cantt 54792, Lahore, Pakistan