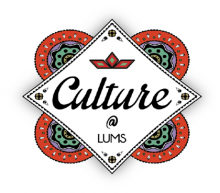 Presidents Message
The LUMS Culture Society has been tirelessly working for the conservation and betterment of enrich cultural heritage of LUMS. It has been fulfilling its promise of introducing the beautiful culture of Pakistan to not only the students of LUMS but also the whole world. Through its national and international exchange, it has been able to facilitate cultural bonding and awareness. Our national and international trips present wonderful opportunities to the students to visit and relive the forgotten cultures from Arians to Mughal empire.
Culture Society has been one of the most decorated societies of LUMS and has won numerous accolades. The society presents a platform for the students to share ideas and grow together.
We see this society and its people as a family. The bonds I have made over the last four years with this society are extraordinary and the experiences are incomparable. I am honored to be a part of a society which supports its members and provides environment of mutual trust, respect and exchanging ideas.
Muhammad Huzaifa Zulfiqar,
President | LUMS Culture Society
2020-21
Our Vision
Founded in March 2004, LUMS Culture Society aims to promote awareness, understanding and appreciation of cultures from around the world. Society provides a platform where members can share their cultures and traditions with each other to promote diversity. We aim to add culture in our curriculum for which we arrange talks and cultural exchange programs.
Our Mission
To foster and strengthen knowledge, understanding, appreciation, and promotion of national and international cultures and its variegated manifestations
Our Core Values
• Respect
• Excellence
• Acceptance
• Leadership
• Commitment
Objectives
• We aim to use a people-to-people approach in bringing the world to our students.
• Entailing (both national and international) heritage, literature, music, cuisine, and performing arts.
• Establishing cultural relations with students and universities around the world to create a vibrant and dynamic forum for cultural exchange.
• Promote Cultural talks
Contact Us
Facebook: Lums Culture Society (m.me/culture.lums)
Instagram: culture_lums
Email address: culture@lums.edu.pk
Address: LUMS, DHA, Lahore Cantt 54792, Lahore, Pakistan