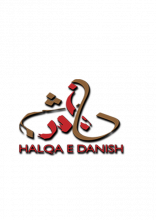 President's Message
I, being frontier of the Halqa-e-Danish, aim to establish an environment for the LUMS community where they feel close to the origin of literature and manifest their literary talent with others. It'll be propitious to foster the upcoming individuals and enable them to express what's within them through the art of literature. Nonetheless, we should never forget our heritage and appreciate every individual following this path and their endeavours.
Noshaiz Amjad,
President, Halqa-e-Danish
2020-21
Our Vision
Halqa-e-Danish is a platform that aims to reinvigorate the South Asian art forms, including culture and literature, among the student body of LUMS.
Our Mission
As implied by the name of this potential society it will be a circle of individuals aiming to discuss ideas, perspectives, history, literature and any relevant topic that can make people think, wonder and observe. The aim will be to create a space in the LUMS environment to hold conversations while primarily basing these conversations on South Asian Literature. We want to stimulate curiosity and set the stage for inquiry. A certain gap exists between the student body and South Asian Literature where it's considered something too alien to be understood, our aim will be to bridge that gap.
Our Core Values
Acceptance
Encouragement
Passion
Teamwork
Commitment
Respect
Professionalism
Objectives
Present topics in literature for education, inspiration, motivation, and the interest to become a potential reader.
Promote cultural displays
Provide educational workshops.
Promote literary competitions.
Provide chances to showcast people's creativity
Provide literature-writing instruction and mentoring.
Facebook : @Halqadanish
Instagram : Halqa_e_danish_lums
Email: halqaedanish@lums.edu.pk
Address: LUMS, DHA, Lahore Cantt 54792, Lahore, Pakistan