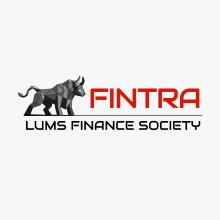 Presidents Message
The last year at FINTRA holds immense significance for all of us. The initiatives which we were able to undertake were some of those that had not been taken ever before by the Society.
Not only were we able to successfully release our magazine Bottom-Line, despite of not being able to the previous year, but we were also able to take on several new initiatives, some of which include the release of our first of their kind YouTube podcasts, and an Article Writing Competition, which was initiated by our Research department during the Covid-19 lockdown, this enabled us to spot an opportunity in the quarantine to engage with the student body, hence contributing to a massive increase in the society's popularity.
Moreover, we were able to secure a major sponsorship from Indus motors Company, the process involved our Marketing team visiting their head office in Karachi and presenting the society's proposal in front of their top marketing executives. However, our efforts were not just limited to further promoting the society, instead we tried to also create opportunities for our members, which is evident from our recent agreement with one of our sponsors 'MyDokkan' to provide paid internships to five of our Society members during this lockdown. And our finalized agreement with KASB, one of the most well reputed brokerage firms in the country, allowing FINTRA members to open trade accounts with having to provide minimum documentation.
We at FINTRA are committed towards providing access to Financial knowledge to the rest of the LUMS Community and to delivering opportunities for our members that would help them throughout their future endeavours.
Taimur Sultan
President, FINTRA
2020-21
Our Vision
FINTRA, the finance society at LUMS, aims to give the necessary exposure to students in the realm of finance and of the dynamic business world around them. The goal is to prepare students for the practical world which does not merely rely on textbook learning.
Our Mission
To achieve our vision, we hold skills development sessions, conduct speaker sessions and host events to educate students about finance. Apart from this, our annual magazine Bottomline and Podcasts are initiatives taken to cultivate the knowledge of financial activities prevailing globally, which can be accessed by the general public.
Our Core Values
All individuals are welcome to join regardless of their major, caste, creed or religion.
Honesty in all dealings with others, as foundation of all other values.
Respect for others, as shown by consideration for their beliefs and needs.
Integrity in adherence to moral and ethical principles.
Excellence in all work performed, reflecting ideal of quality as a virtue.
Commitment in demonstrating obligation towards society's vision, decisions & promotion.
Objectives
The Finance Society of LUMS aims to provide members the ability build experiences in the field of finance.
1. The Society aims to provide skill-training workshops to its members.
2. The Society aims to arrange talks from notable speakers, from the field of finance, to promote knowledge and discussion.
3. The Society aims to organize finance competitions to engage in.
4. The Society aims to build a community for students interested in the field of finance by providing team-building exercises and round table discussions.
5. The Society aims to facilitate its members by providing mentoring and instruction.
6. The Society aims to promote finance as as a viable career option
Contact
Email: fintra@lums.edu.pk
Address: LUMS, DHA, Lahore Cantt 54792, Lahore, Pakistan