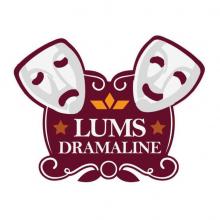 Presidents Message
LUMS Dramaline is not only one of the largest student-run theatre societies, but also amongst the most renowned ones all across Pakistan. This society comprises of people from all walks of life, who come together to promote theatre and art. Dramaline is not only a society that caters to individuals interested in performing arts, but helps its members acquire other useful operational, technical and human skills extremely important for one's growth and development. We aim to provide individuals with a platform to express themselves, pursue new theatrical endeavors, experience novel opportunities, and give back to society in the form of art. However, Dramaline's primary goal is not only to enable experienced and talented perfomers to excel, but also to encourage new theatre aspirants to learn and follow their passion. Building up on that, most importantly, we strive to foster a conducive environment so that every member can call Dramaline his or her safe place; not just a society, but a family – The "Dramaline Family".
Mohammad Aashir Nadeem
President, Dramaline
2020-21
Our Vision
Dramaline envisions to promote art and culture through theatre and performing arts. Theatre as an art-form has faded over the years; we aim to revive it. In doing so, we want to give back to the community by creating awareness through theatrical performances that highlight the perils of our society. Lastly, we hope to instill love and admiration for theatre in our community.
Our Mission
Dramaline's mission is to provide people with a platform to learn and follow their passion to perform. Many people look for an artistic outlet for various motivational or therapeautic reasons. This society aims to provide people with that so all theatre and performing art lovers can meet to showcase their talents and celebrate art.
Our Core Values
Acceptance
Encouragement
Professionalism
Respect
Creativity
Innovation
Our Objectives
Provide meeting places for society activities and discussions.
Put up engaging plays and performances.
Provide theatre workshops for acting, direction, and scriptwriting.
Promote theatre competitions.
Promote the society and its members via our events and performances.
Provide an outlet for artistic expression and creativity.
Provide society members and the LUMS community with opportunities to perform.
Develop a comfortable space for all members of the society.
Have fun!
Email: dramaline@lums.edu.pk
Address: LUMS, DHA, Lahore Cantt 54792, Lahore, Pakistan