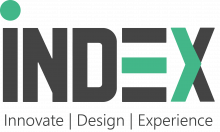 President's Message
For the Executive Council and I, INDEX has been a space to breathe design. It has taught us to be present, to be observant, and to be mindful; to appreciate the good around us and have the confidence to address the not so good.
You may open a complex computer software, or you may open an app on your phone, or you take a pencil to a piece of paper, or you take a soft rock to the walls of a ten thousand year old cave, and suddenly you begin to transcribe and communicate your very thoughts and vision. You begin to organise your thought processes and now the inner workings of your mind are embodied and staring back at you. And through this embodiment you trace out and break apart problems; you architect solutions. That is the power of the process of Design.
The process of learning and improving design skills, requires patience and resilience. By seeking iterative feedback, you emerge from the other side with a bagful of lessons, advice, and valuable experiences. "Continuous improvement" is an important principle at INDEX, of not only yourself as an individual, but as a team. It is within our Society's core identity to lift those around us, to build a community, a Design Community. We exchange ideas and questions and plans. We hang out and have fun together. We learn and we grow together.
What better time than now to look around and see what skills you can acquire, what difference you can make and what problems you can solve through design-based thinking.
We are always on the lookout for fellow Design Enthusiasts.

Hania Siddiqui,
President, Index
2020-21
Our Vision
INDEX, a student run society, aims to create a design community across Pakistan and instil the values of good design and innovation within Pakistani society. We wish to give students from the country a platform to discuss, and learn about the, international standards of Design Thinking and user-based problem solving. INDEX shall act as a showcase for Pakistani design skills, innovation, and solutions to real world design problems.
Our Mission
To teach, encourage and celebrate design innovation, design thinking, and user-based problem solving by hosting workshops, seminars, tutorials, awards, and networking opportunities, encompassing multiple fields of Design such as but not limited to Game Design and Development, Animation, Graphic Design, Architecture , UX/UI Design, Product Design etc.
To connect Designers at LUMS and around the country and brew a culture of sharing design knowledge with peers.
Our Core Values
Integrity: Honesty and strong following of moral principles.
Teamwork: Effective and efficient execution within a group.
Learning and Growth: Sharpen your skills and teach others.
Community: A friendly, diverse, and inclusive group of individuals.
Creativity: The use of imagination and original ideas.
Quality: Maintaining and adding to the national standard.
Initiative: Take charge and get it done.
Innovation: Think outside the box.
Objectives
• Conduct events and activities to promote and discuss past, present and future of design.
• Engage in discussions on topics regarding design and innovation and bring about an awareness in the student body as to the essence of good design.
• Conduct educational workshops and teach essential skills such as photoshop, illustrator etc.
• Promote the society and its members through by conducting seminars and Mini Design Baithaks.
• Provide an outlet for the expression of creativity and the sharing of skills and experiences.
• Create an atmosphere of trust and integrity to promote ethical values and in the process, creating a platform which provides equal opportunities for everyone.
• Maintain a social media platform that provides the LUMS design community access to resources and help from peers
Contact
Email Address: index@lums.edu.pk
Address: LUMS, DHA, Lahore Cantt 54792, Lahore, Pakistan