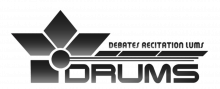 Presidents Message
I have been debating for a very long time and my experience and relationship with debating, as I see it now has turned out to be one which I cherish a lot. It has not always been this way; it has been difficult to continue and often one where I have wanted to just quit. It has been my experience here at DRUMS which has changed my outlook on it, especially with the international exposure I have been fortunate to have received. This is what I envision to replicate for others, I want others to find their space at DRUMS, I want them to enjoy this part of their lives and to look back at it someday with happiness.
Zaid Abro
President, DRUMS
2020-21
Our Vision
To become one of the most successful and well-known public speaking unions in South-Asia, an internationally renowned organization. To bring national debating and public speaking in line with global competitive standards and someday be host to a marquee regional event.
Our Mission
We work on introducing people to the art of public speaking and equip them with the skills we have acquired over the years. We are Pakistan's most successful parliamentary debate union, nationally and internationally – we hope to continue to equip aspiring public speakers with these skills so that they could represent the country globally. By equipping people with the skills of public speaking we hope to empower discourse on issues of social importance.
Our Core Values
Access: We keep our training camps open to all students at LUMS regardless of their membership to our society so that everyone can take advantage of the training we provide.
Community: We actively participate and interact with public speaking societies at other universities to build a strong and healthy sense of community and collaboration.
Expression: We debate on various issues of social importance, supporting the presence of space to freely express yourself.
Inclusion: To create a space which is safe and accessible for all
Our Objectives
Host National & International level public speaking tournaments throughout the year in English as well as Urdu.
Provide opportunities for international exposure to debaters.
Conduct training camps throughout the year to enhance the skills of debating and different forms of recitations.
Make debating inclusive and a safe space for all.
Conduct Quarterly Debates to raise awareness and create discourse on issues of social importance.
Build a team of young leaders equipped with the various skills relating to event management.
Inculcate the spirit of teamwork and collaboration.
Email: drums@lums.edu.pk
Address: LUMS, DHA, Lahore Cantt 54792, Lahore, Pakistan