ABOUT THE CSO
The Career Services Office (CSO) offers an ever-increasing range of services to undergraduate and graduate students in all areas of career planning, including job and higher education placements. It facilitates employers to identify appropriate candidates and connects students with successful professionals from multiple industries, which helps them develop their professional skills and match their skill set with the needs and requirements of potential employers.
We strive for excellence in career guidance and placement services to benefit undergraduate and graduate students by providing a variety of career opportunities through job and higher education placements within and beyond Pakistan. For career progression, we aim to place our graduates in professionally developed organizations and provide a platform for our students to interact with renowned professional trainers of the industry to enhance their skill set at advanced levels.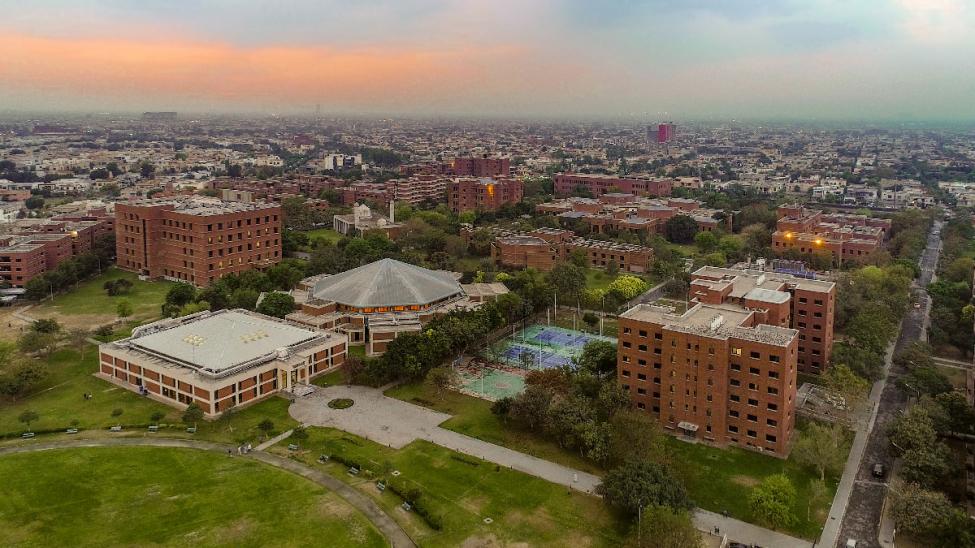 Vision
We envision to be recognized as a premium career service provider, facilitating LUMS students and graduates. We encourage them to pursue optimal academic and professional careers, while inculcating ambitious policies and practices and maintaining the highest degree of personal and professional integrity in our endeavors.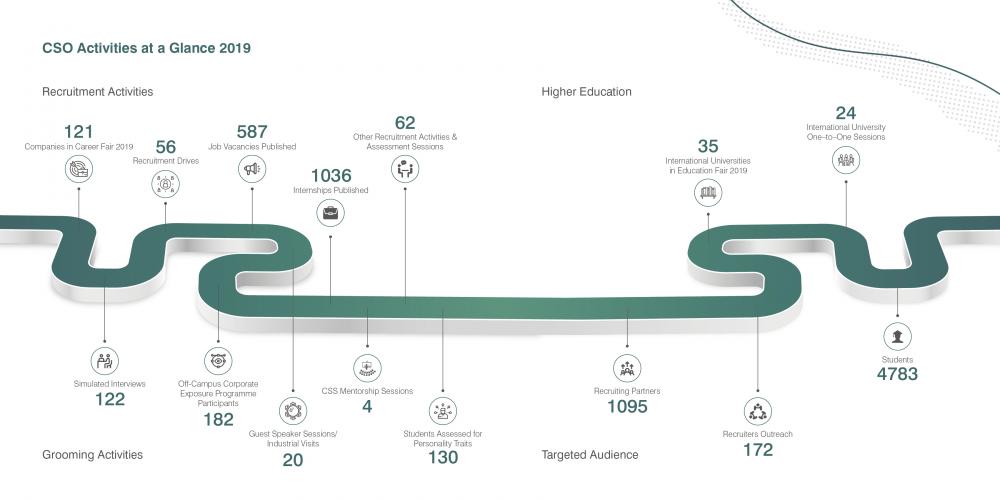 CAREER GUIDANCE
Considering the requirements of a competitive job market, the importance of professional development along with academic excellence cannot be overstated. Training opportunities for professional development enable students to gain confidence in the work they do and build credibility as they continue to acquire new skills.
For the said purpose, we frequently organise a wide range of coaching activities which include simulated interviews, guest speaker sessions, and mock assessments to polish cognitive skills and enhance the employability skills of students. To conduct these activities, we engage high profile and experienced professionals from multiple industries and corporate sectors, and a fairly large number of students attend these activities. We exclusively focus on the following specialised areas for skill development of LUMS students:
• Resume Writing
• Interview Skills
• Goal Setting and Exploring Progressive Careers
• Corporate Ethics
• Personal and Interpersonal Skills
• Personal Branding and Employability Skills
• Negotiation Skills and Accepting/Declining an Offer
• Optimising the use of LinkedIn and Networking Techniques
• Exclusive Coaching sessions for Law graduates
• A series of mentorship Sessions for CSS Examination
Meet your Career Counselor
The CSO team also provides specific guidance to students to help them in exploring appropriate careers based on their individual requirements and skills. Students frequently visit our office to seek counselling on the following:
• Effective Resume Writing
• Employability and Interview Skills
• Exploring Prospective Careers & Internship Opportunities
• Graduate study abroad & Scholarship Opportunities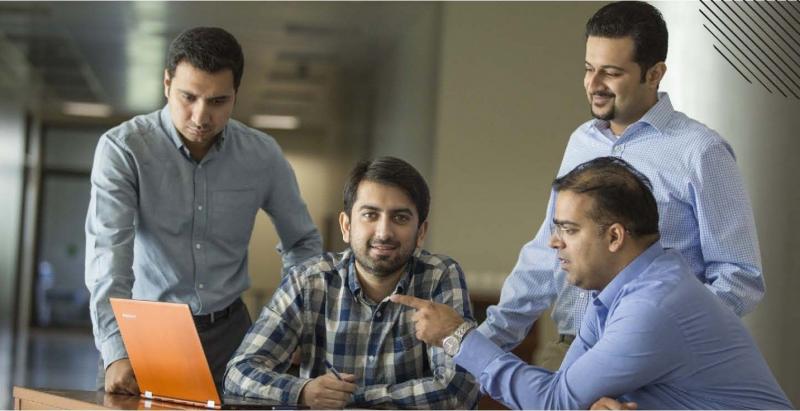 Personality Trait Assessment
CSO organizes "Personality Trait and Competencies Assessment" every year for senior year undergraduate students to prepare them for future career opportunities and challenges. The assessment was designed to assess the student's personality traits, leadership skills, situational problem-solving skills and other cognitive skills - which would greatly sharpen their performance skills, both in terms of interview performance as well as workplace to prepare them for future career opportunities and challenges. It also helps them to map their potential, prepare them for University-to-Work transition, and they set their career path accordingly.
The 'Trait' assessment has already been used at top international universities including Aston, Surrey and Leeds. It has also been used at Civil Service UK, Civil Service Pakistan, ABL, CureMD, GM, NHS UK, IMI UK, Emirates Group, & Phones4U.
Off Campus Corporate Exposure Programme
It is a DAY-LONG professional grooming program. Under this program, the senior, junior and sophomore year students from LUMS visit the offices of leading companies for a few convenient hours to seek the counsel of high profile, experienced professionals from the corporate sector, as well as acclimatize to professional working environments.
The idea of this mentorship program is to prepare our students for the job market and practicalities of professional life as well as enable them to face workplace challenges of the future. The program would also provide an opportunity to the organizations, if a short-term project is assigned to the LUMS students.
Objectives of the Program:
Professional & Personal Grooming of students.
Give exposure of a corporate working environment to students.
Help students in choosing appropriate careers.
Awareness about the professional values & work ethos.
Improve Personal Branding and Employability Skills.
Enhance their Resume Writing and Interview skills.
RECRUITMENT DRIVES
Hunting top talent is a heated competition in the corporate world and every company wants to grab talented individuals at the earliest. To quench this thirst for talent, leading companies rush towards academic institutions, creating a competitive atmosphere within universities and colleges.
A notable number of national & international companies from multiple sectors come to LUMS every year to tap the top talent of Pakistan. We facilitate LUMS recruiting partners efficiently and provide full support in conducting their On & Off Campus hiring processes. Students are also motivated to actively participate in all recruitment activities.
LUMS ANNUAL CAREER FAIR
LUMS hosts its mega event Annual Career Fair in last week of January or first week of February every year to connect its students with prospective employers and introduce them to a myriad of job and internship opportunities offered by various public and private sector organisations.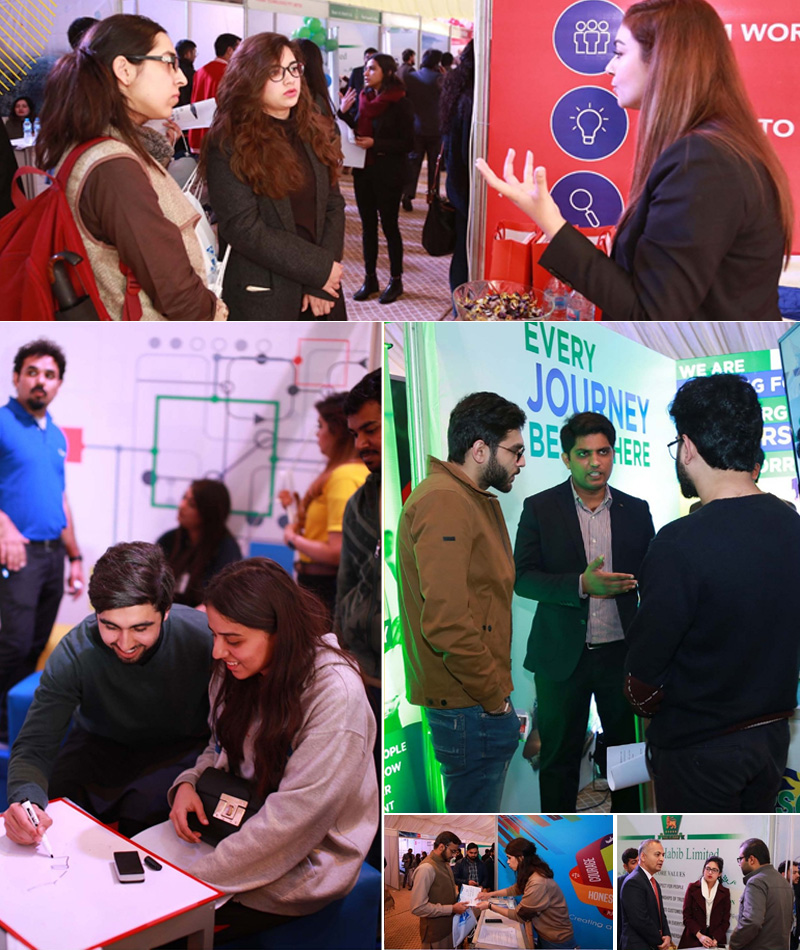 Being held for ten consecutive years, the Annual Career Fair national and international reputed organisations, representing multiple industries. Every organisation had setup a recruiter's booth to conduct on-spot screening interviews, collect resumes and engage with the students. The company representatives also counselled the students regarding their career choices and the job market requirements. The fair has consistently grown in terms of, both students and prospective employer attendance and this year was no exception as the event provided the employers an opportunity to engage with a large pool of talented students, while enabling the students to scout prestigious employment opportunities.
HIGHER EDUCATION ABROAD
A significant number of graduates and undergraduates from LUMS pursue higher studies abroad every year and visit our office to seek guidance about similar opportunities. We invite leading international university representatives and local consultants for one-to-one counselling and information sessions.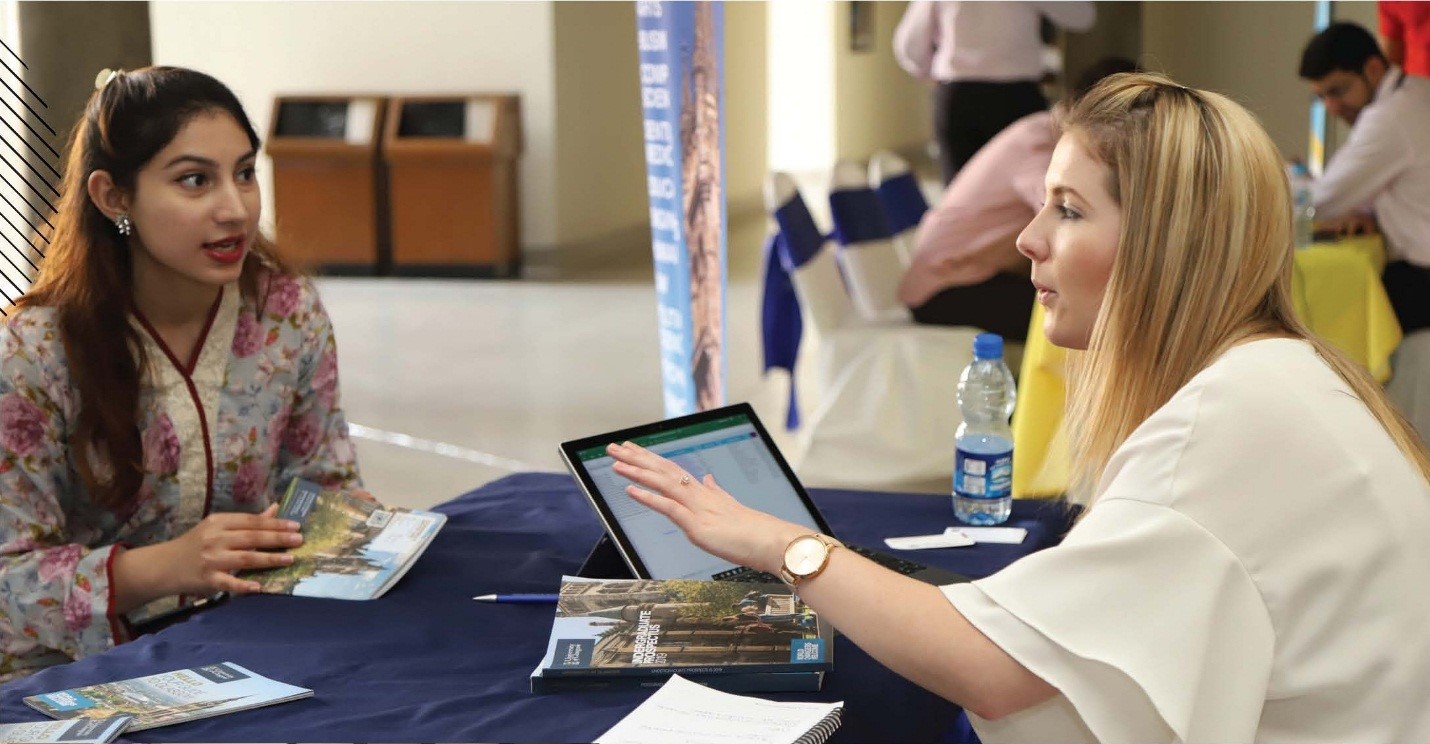 To support LUMS graduates, we organise an Annual Education Fair every year, in which international offices of higher education institutions and Leading Educational Consultancies participate to represented prestigious universities of the world.
We also host a Study UK tour in collaboration with the British Council and US universities tour with the partnership of USEFP to provide maximum information to interested students. Leading international universities and renowned consultants have also visited LUMS to provide one-to-one counselling regarding higher education abroad.
CSO PORTAL USER GUIDE
1. Visit https://connect.lums.edu.pk/ and click on 'Employer Registration'
2. Fill out the registration form, and tick any one of the following according to your requirements and submit the form.
• Career Services Office (CSO)
• MBA Placement Office (MPO)
As you will sign up on the portal and fill in all fields, the CSO team will formally approve your profile after a review and a confirmation email containing username and password details will be sent to your official account. Please use the given details to login and post job positions on the portal by following these steps
• Visit https://connect.lums.edu.pk/ and click on 'Job Post' and fill out the brief vacancy form
• The CSO team will review the form and approve once it matches with the required criteria, after which you will receive a confirmation email accordingly
After your vacancy is posted, students will start applying against the position. In order to view the number of applicants, click on 'Application;' it will display three options
1. Download all resumes
2. Download only selected
3. Download Zip
You may choose any of the options as per your requirement to download the resumes; this will be followed by your organisation's own specific recruitment process.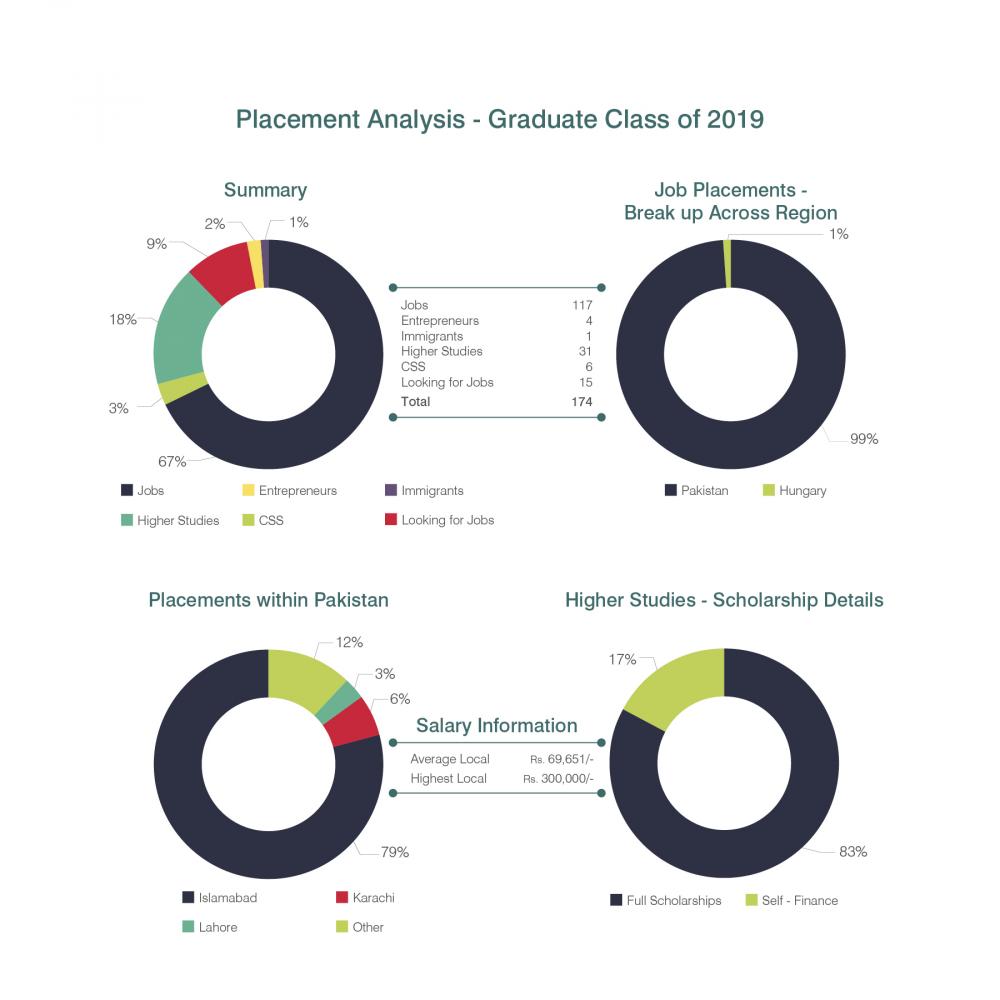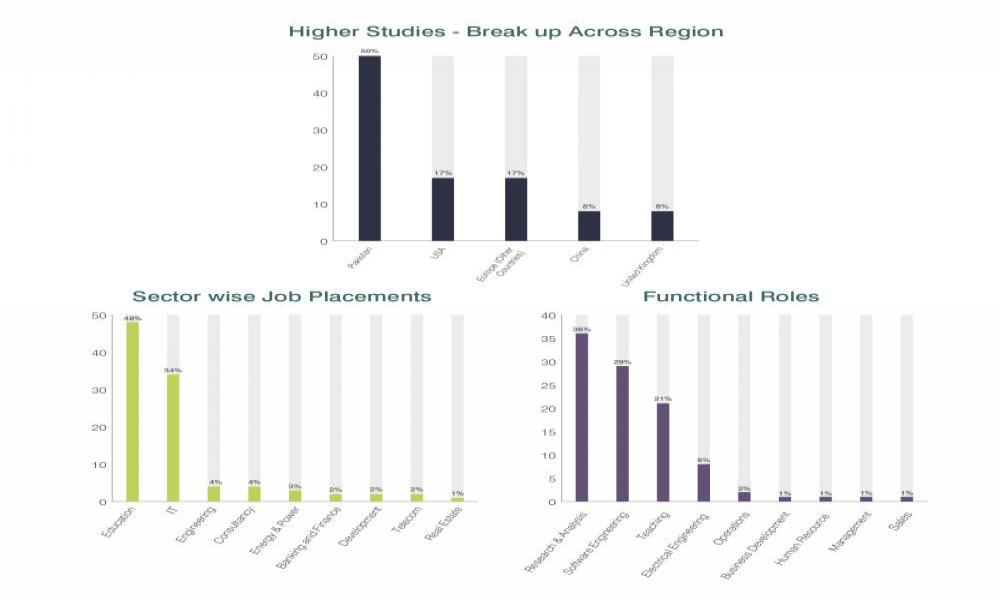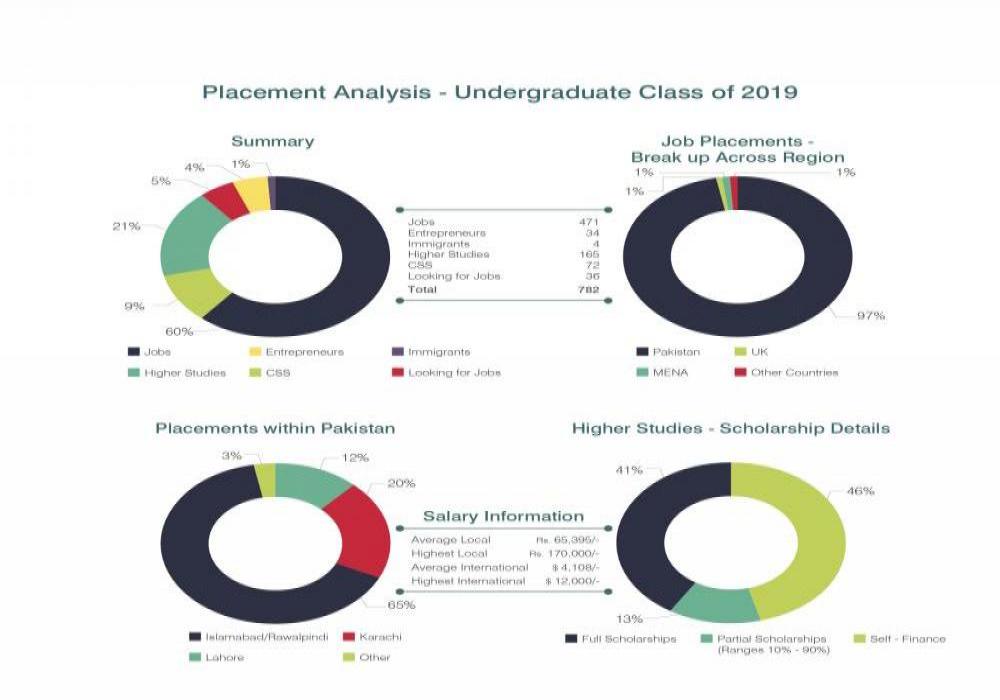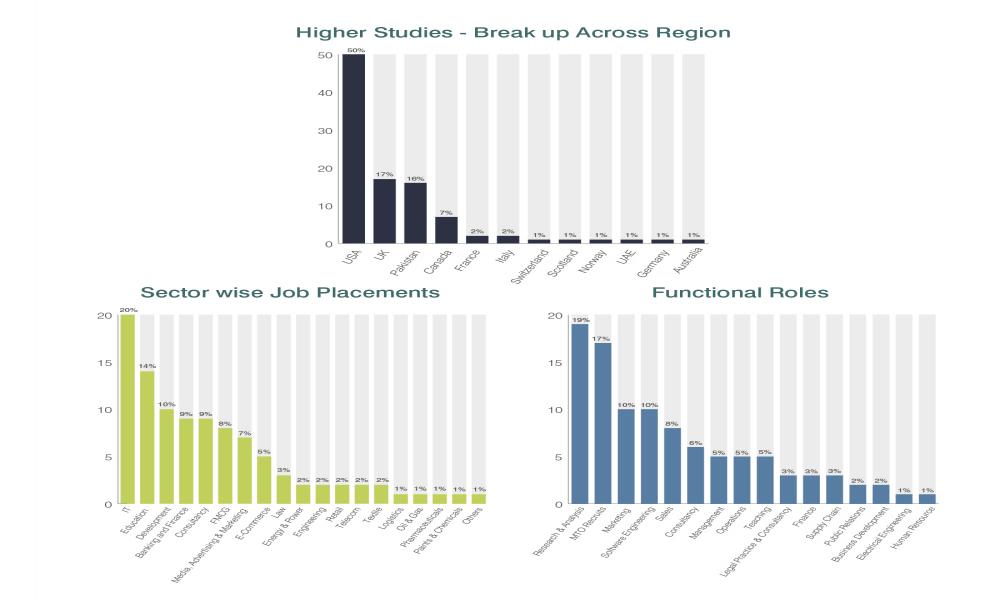 Placement Analysis
Undergraduate Class of 2018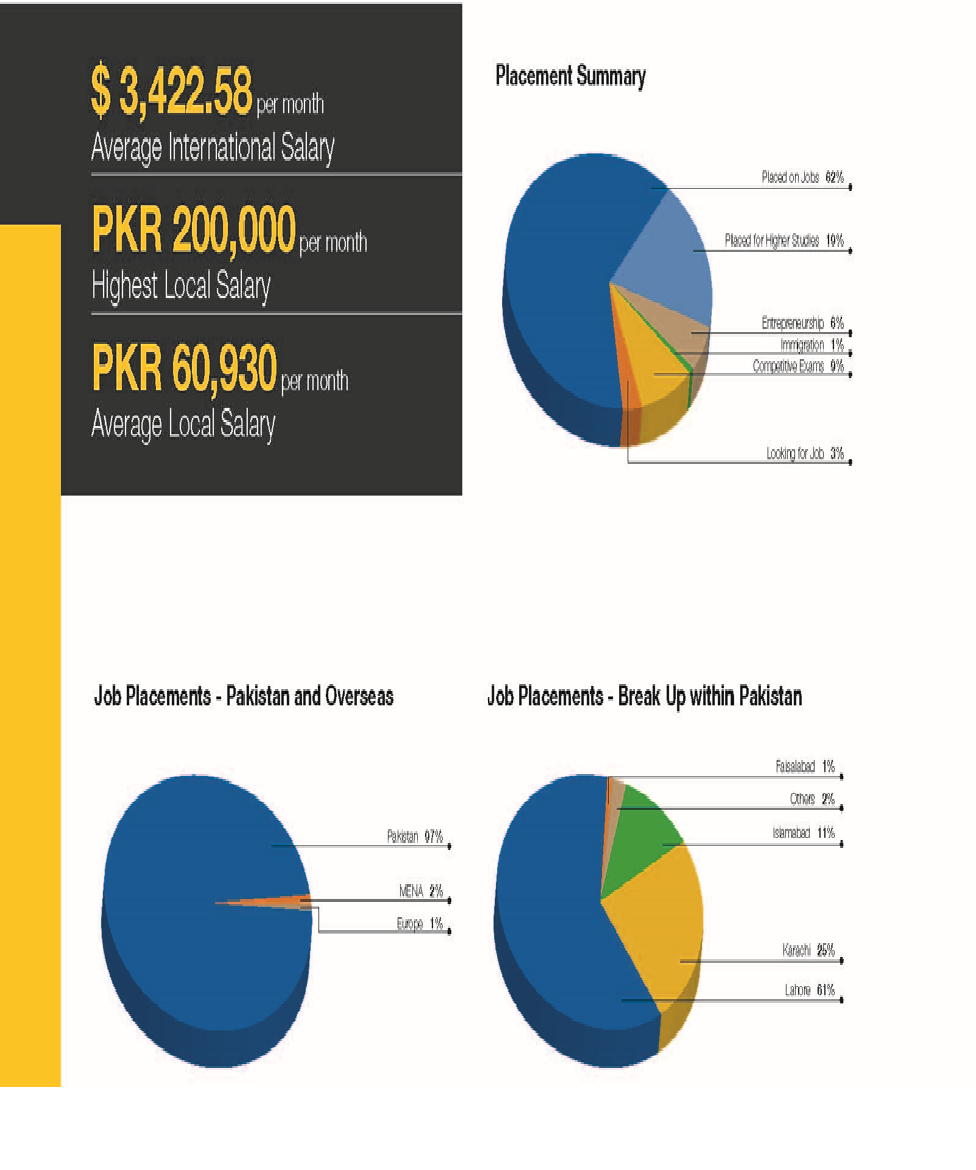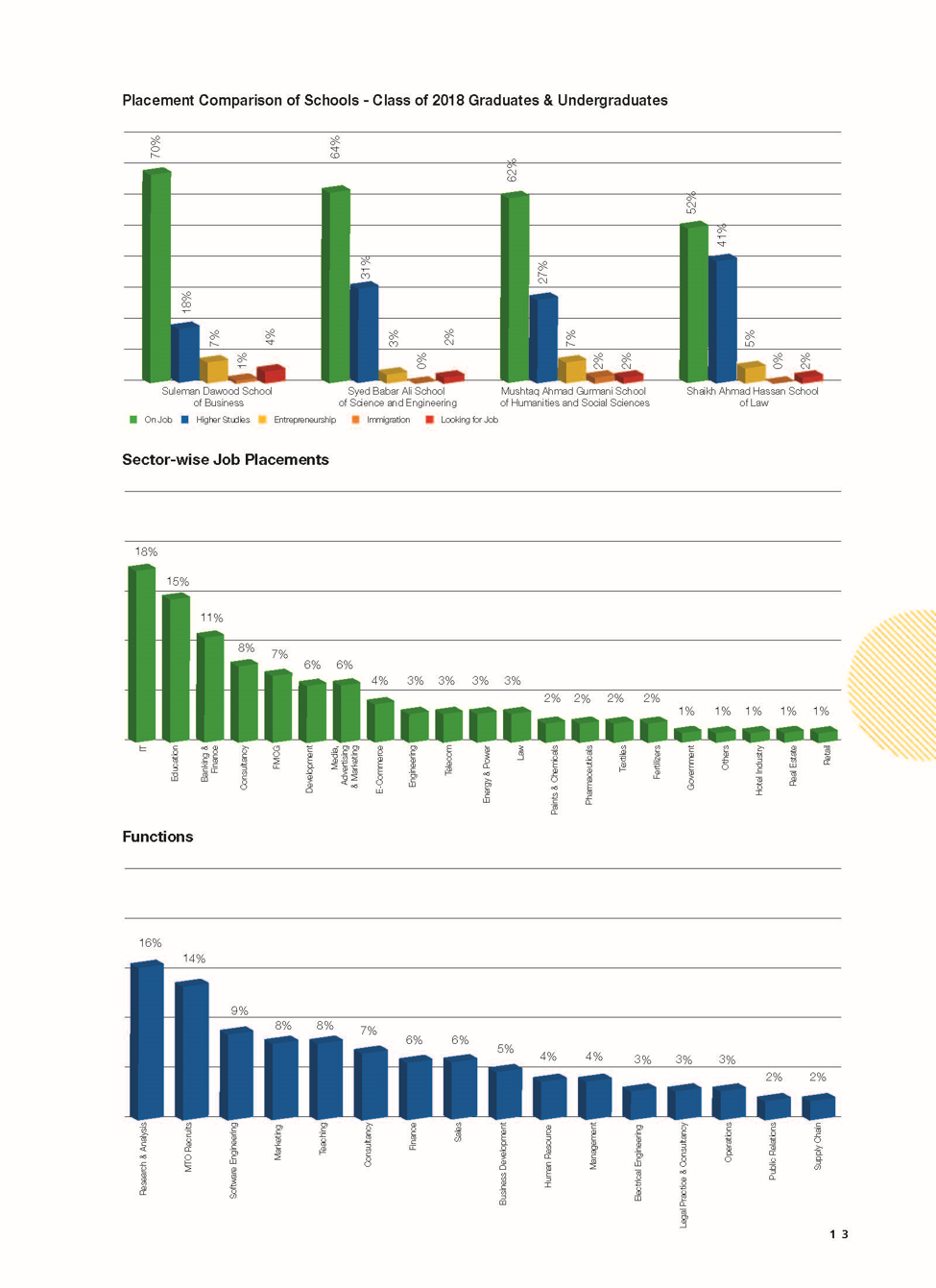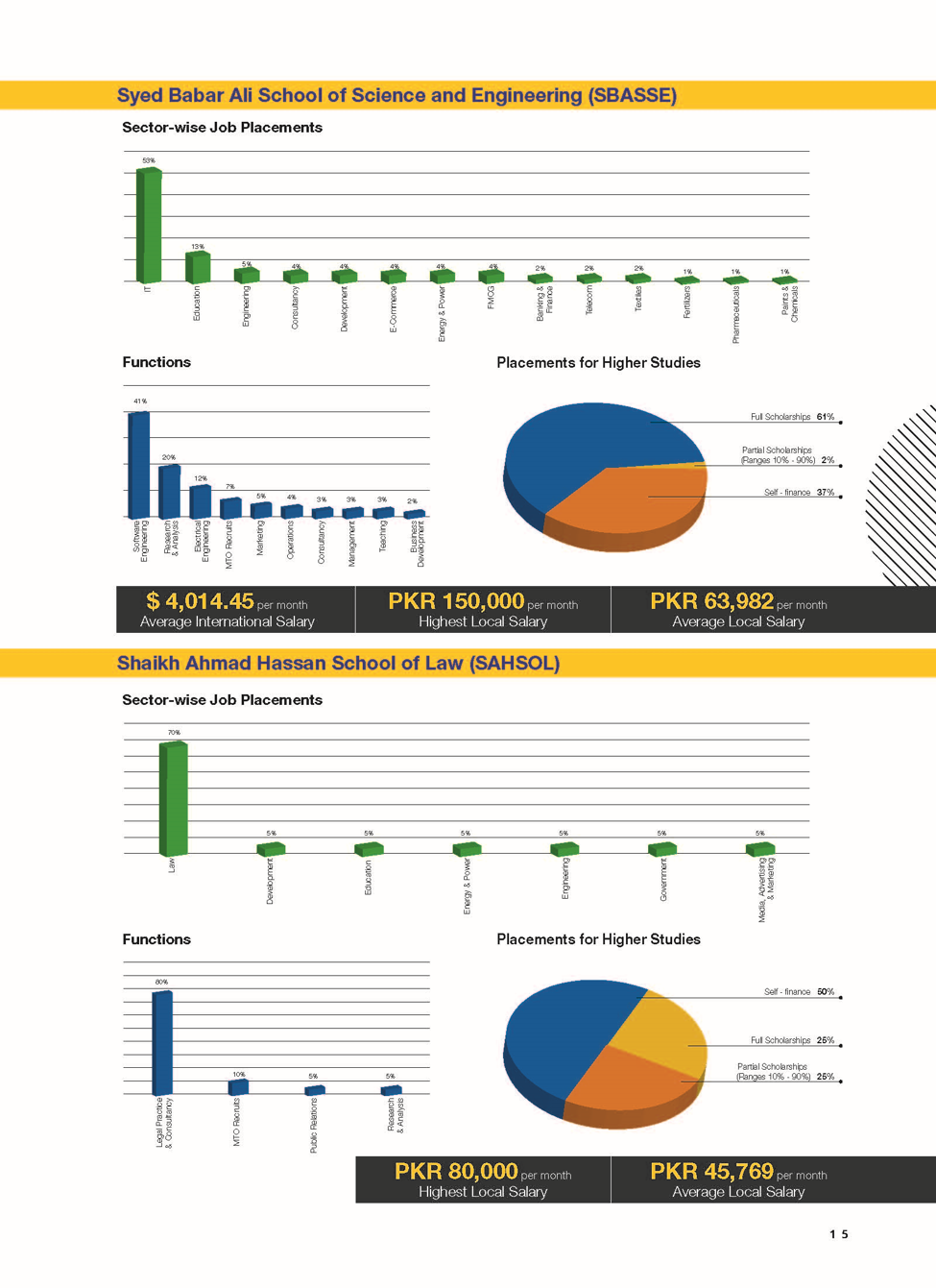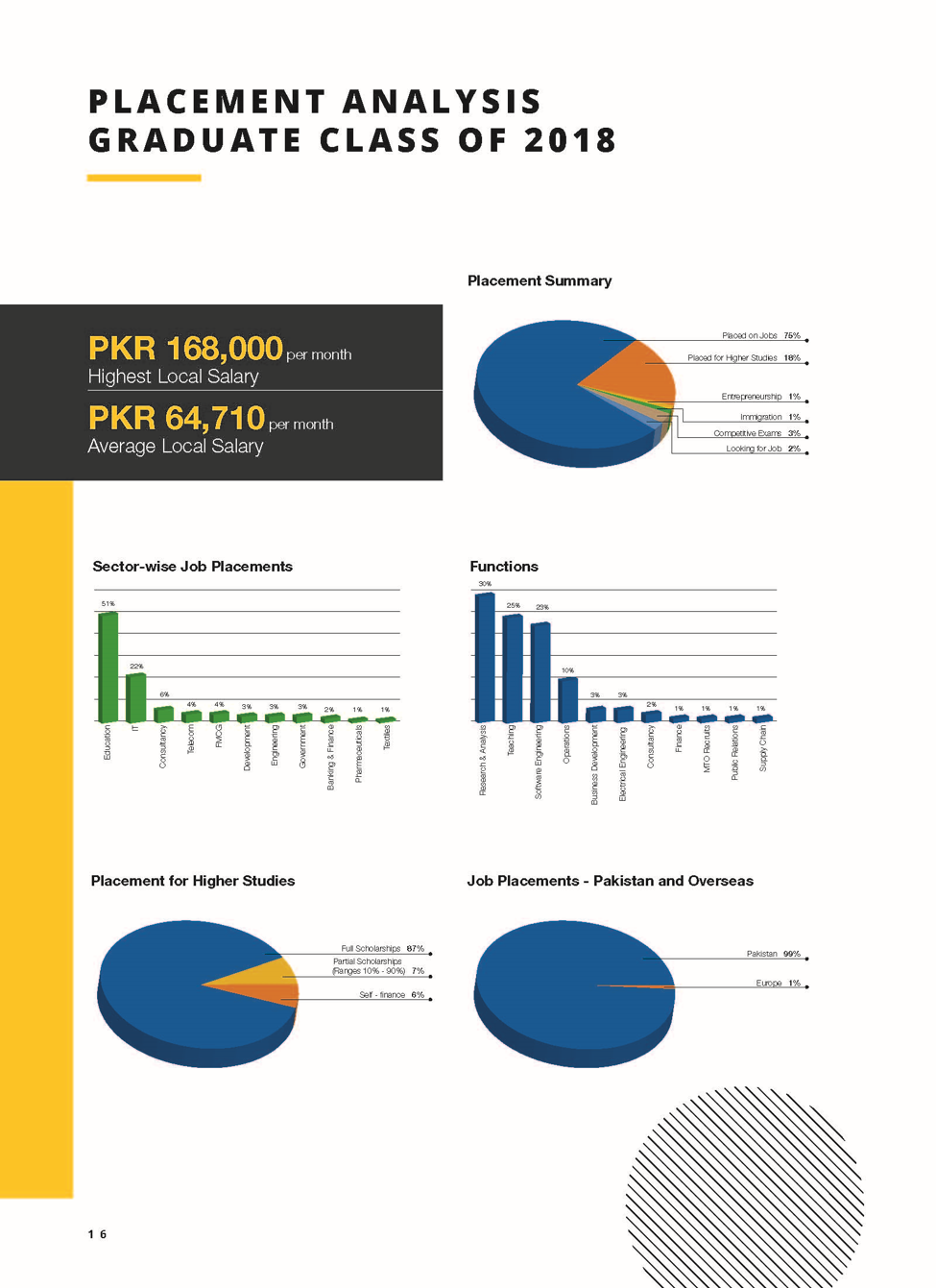 Click Here to See Other Publications
CONTACT US
Mazhar Mohsin Chinoy
Director, Student Support Services
mchinoy@lums.edu.pk
Rana M. Munawar Farooq
Senior Manager – Career Services Office
munawar.farooq@lums.edu.pk
042 - 35608000 Ext: 8185
Mubasher Hassan
Assistant Manager – Career Services Office
mubasher.hassan@lums.edu.pk
042 - 35608000 Ext: 8185
Asad Ullah Malik
Senior Officer – Career Services Office
asadullah@lums.edu.pk
042 - 35608000 Ext: 8022
Kinza Tariq
Officer – Career Services Office
kinza.tariq@lums.edu.pk
042 - 35608000 Ext: 2175
Rida Fayyaz
Officer – Career Services Office
rida.fayyaz@lums.edu.pk
042 - 35608000 Ext: 8429