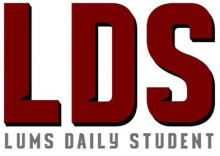 Presidents Message
As we navigate through these unprecedented times, LUMS Daily Student is more motivated than ever to keep the community informed with the latest news and discourse on issues dear to them. We are a tightly-knit family of budding journalists and story-tellers, connected by the passion for collaborative learning. The LUMS Daily Student offers students a chance to be part of a inclusive society where members hail from a diverse set of majors, each adding their own prespectives and academic expertise. This enables us to participate in discussions spanning all genres from campus life and business to academic issues, social engagement and community well-being. With a newspaper boasting a reach of over 2000 students and convening Pakistan's leading student journalism event, we present an enriching society experience. We warm-heartedly welcome the LUMS Class of 2024 to lead content creation at LDS.
Humza Siddique,
President | LDS
2020-21
Our Vision
LUMS Daily Student aspires to be the largest student-run journalism organization in Pakistan that engages with the LUMS and wider community with creative and responsible content.
Our Mission
LUMS Daily Student aims to provide a nurturing experience for students looking to enhance their journalism and general management skills. Through a diverse general body, we want to build a robust platform for students to gain practical knowledge of the journalism industry. Our platform is grounded in the principles of ethical reporting and creative expression which allow us to offer a purposeful learning experience.
Our Core Values
Inclusion: We do not discriminate based on ethnic, cultural, religious and academic background and therefore celebrate diversity.
Empathy: We appreciate differing perspectives and are respectful of the circumstances of our stakeholders.
Collaboration: We move with consensus and encourage members to overcome barriers built on hierarchies and department divisions
Consistency: We value commitment and dedication and love to see it reflected in the work of our members week on week.
Our Objectives
Provide an engaging and creative platform for college and university students to practice journalism
Generate and execute content creation strategies based on trending topics and issues that need to be voiced in the LUMS Community
Develop an extensive reach of our student newspaper, The LUMS Post, through print publication, e-papers and online news website
Convene workshops to enable a constant drive to learn and develop the core journalistic skillset
Engage in strategic and partnerships with media agencies, news outlets, newspaper houses, NGOs, corporate firms and fellow LUMS societies to expand the Daily Student portfolio.
Expand online presence and reach through targeted organic campaigns and live podcasts, talk-shows, broadcasts and photojournalism
Implement policies of department rotation, project-based work and weekly "catch-up" sessions to enhance member engagement and well-being.
Convene funfilling trips and remote entertainment activities to strengthen general body bonding

Contact Us
Website: dailystudent.lums.edu.pk
Facebook: https://www.facebook.com/LUMSDailyStudent
Instagram: https://www.instagram.com/lumsdailystudent20/
LinkedIn: https://www.linkedin.com/company/lums-daily-student
Email Address: dailystudent@lums.edu.pk
Address: LUMS, DHA, Lahore Cantt 54792, Lahore, Pakistan